Guess who is beyond excited for our guest bathroom/main bathroom makeover? This girl!!! We have lived in our home now for about a year and a half and I hate to admit it, but I have literally, hardly touched this bathroom. I don't have recent before pictures, but this picture from when we bought the house gives you a general idea of what it looks like. To this day, there is still blue lace hanging above the shower!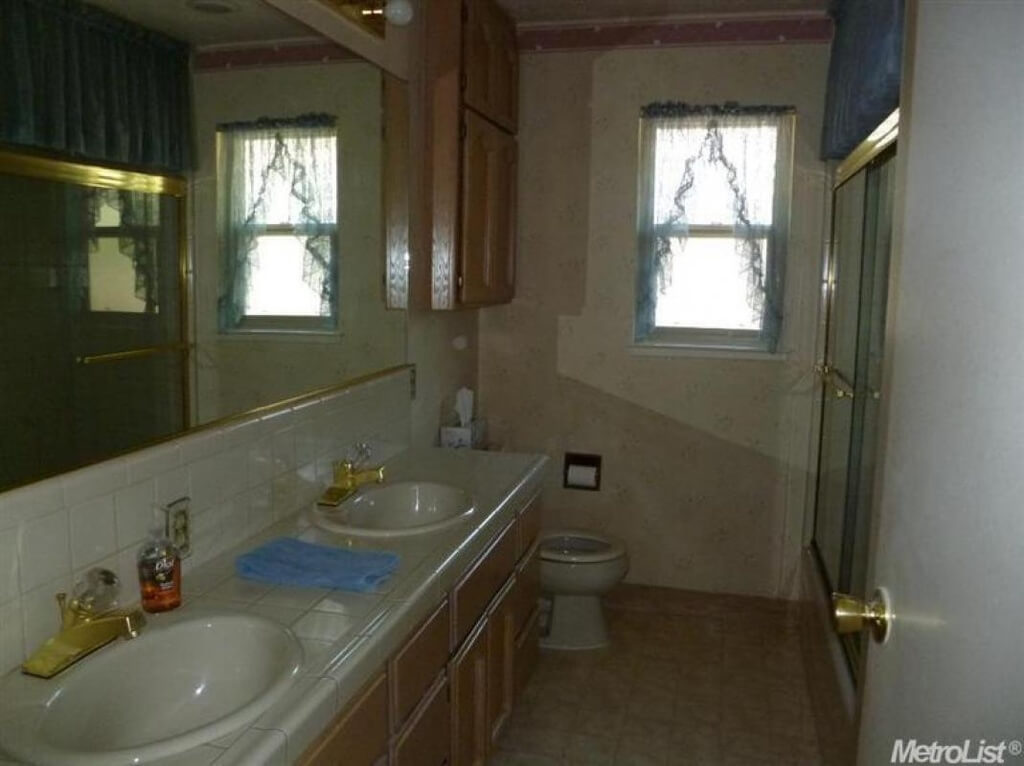 One may think, "how hard could it be to take the lace down." I know, I know, but I digress.
In our home remodel so far, we have completed our hallways, replaced all our doors, bedrooms and living room (and here). Soon this bathroom will be our next project. Luckily, we don't have to move anything, the layout is great. But almost EVERYTHING is going to go and we are only keeping the base vanity, just giving it a fresh coat of paint and modern shaker style doors. We'll need to take everything out, take off the wallpaper, re-texture the walls and ceiling and replace the tub, sinks, toilet, countertop, fixtures, mirrors and floors.
This bathroom is one of three in our house, the other is our master bathroom and then a half bath off the garage. It is our main guest bathroom and the main bathroom that the boys will grow up with. I designed our remodeled bathroom with a clean, modern and slightly industrial look so that it somewhat feels like it belongs to the boys too as they grow up but is welcoming and nice for all our house guest. I am ready to roll with this thing, we are just waiting on getting in the schedule with our contractor. In the meantime, I've sourced out all of the main items at the end of this post if you are curious.

1. Serena & Lilly – Feather Shower Curtain in Bone
2. Benjamin Moore – Gray Wisp Paint
3. Houzz – Organic Cotton Sumptuous Towels
4. Target – Threshold Decorative Wall Shelves
5. Supply.com – Moen Boardwalk Collection Hardware with added Rain Showerhead
6. All Modern – Syndicate Sales Novelty Terrarium
7. Home Depot – American Standard Cadet Dual Flush Toilet
8: Built-In Soap/Shampoo Holder
9. Minted – Gilded And Graphic No. 1 Framed Art
10. Supply.com American Standard Studio Undermount Sink
11. Lowes – allen + roth 3-Light Vallymede Brushed Nickel Bathroom Vanity Light
12. Home Depot – Bright Snow White 3 in. x 6 in. Ceramic Wall Tile with Dark Grout
13. Overstock – Corvino Wall Mirror – Large' 33 x 27-inch
14. Granite Outlet Sacramento – Carrera Quartz Countertop
15. Existing Vanity Cabinets with New Doors & Gray Paint
16. South Cypress – Manhattan 2″ x 2″ Night Matte Hexagon Mosaic