In my last post, Mission: Patio Makeover, I outlined the task I had last weekend for my Mom and Dad's patio. In one day with the help of my little worker bees (Haley and Heather my nieces) and my family, we finished the makeover. The whole weekend working in the yard was a lot of hard work but it was all well worth it. The yard is looking amazing and it will be the perfect backdrop for my sister and Paul's wedding in May. Beyond the patio, there were many other clean up and gardening projects happening but this post will focus on the patio. I will have future posts after the wedding to show how great the yard looks!
I spent most of last Friday running around between Ikea, Ross, Walmart, and Cost Plus to purchase everything I needed to complete the patio. I was able to stay within the budget of $200 after I went back between Ross and Ikea to return a few things. I started the morning out by cleaning up the patio area to create a clean space for decorating.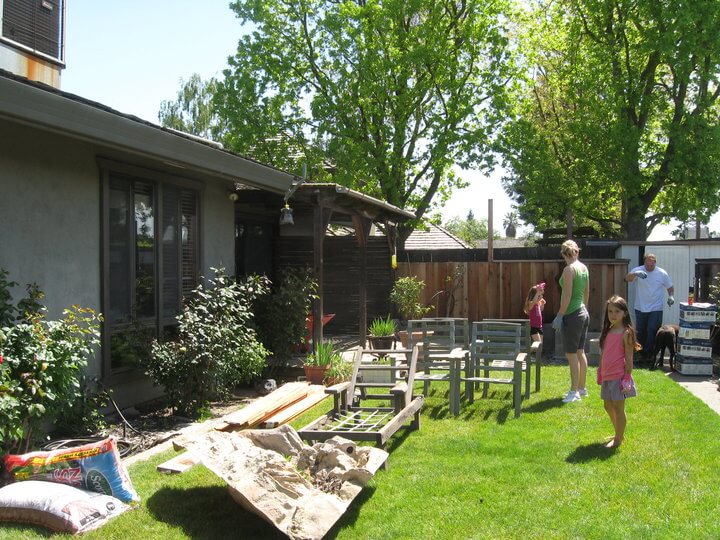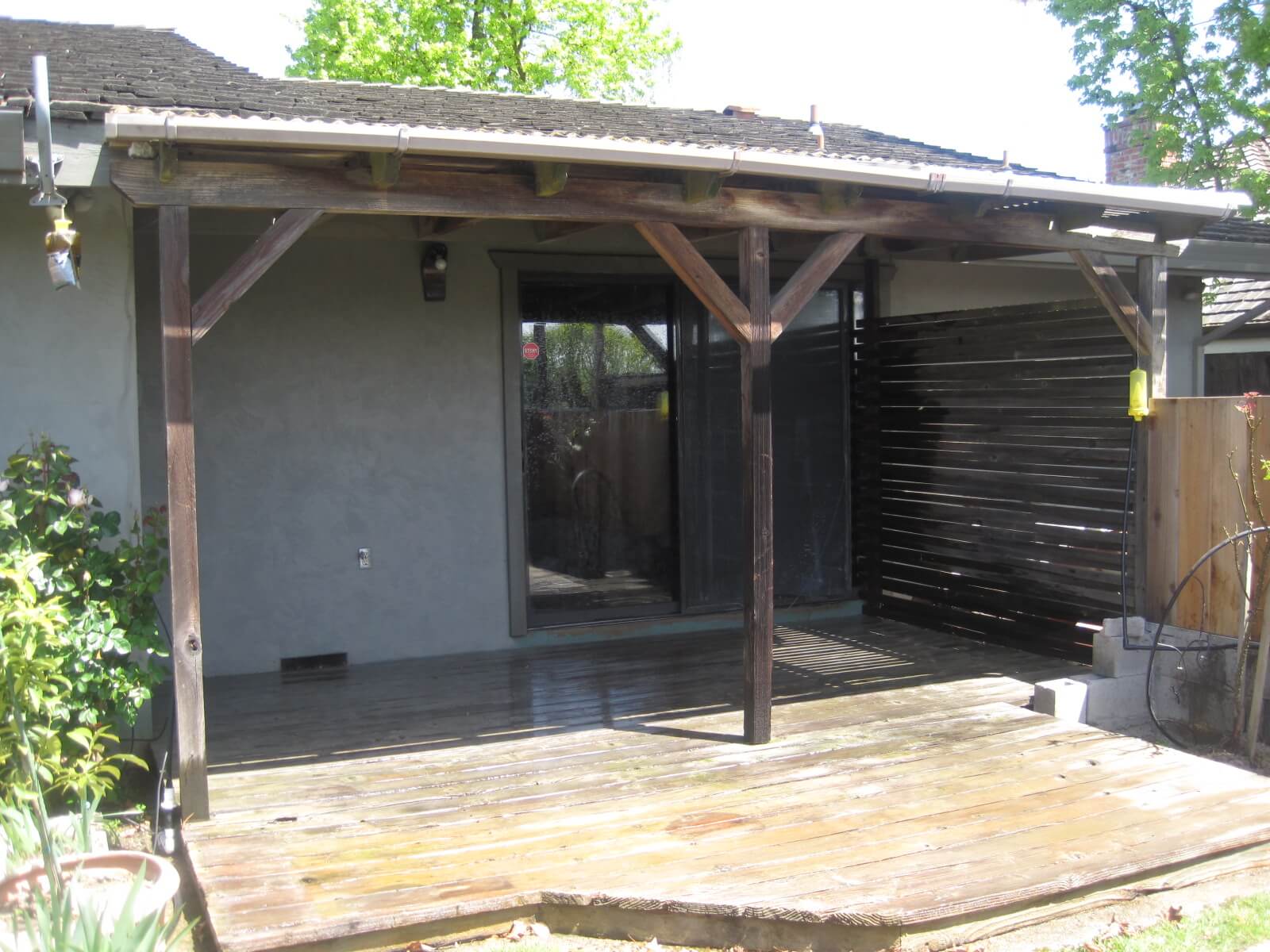 I purchased 7 cans of spray paint from Walmart along with a nifty spray grip device and spent a total of $23.72 with some paint left over.
Before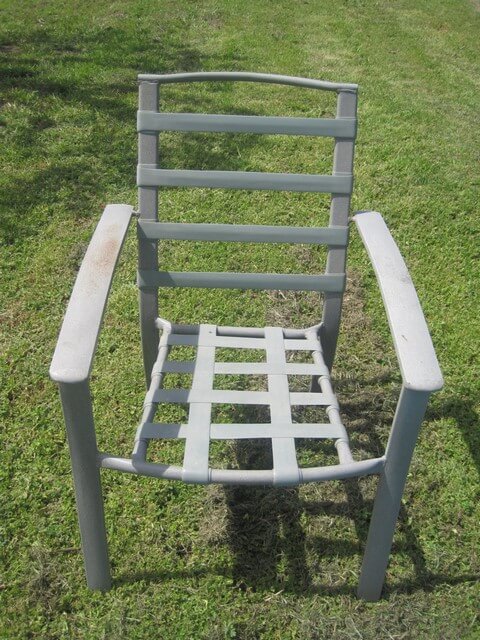 During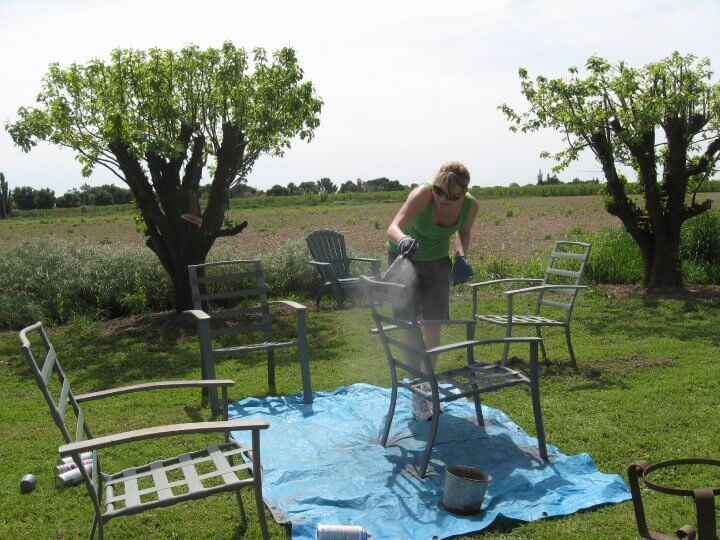 After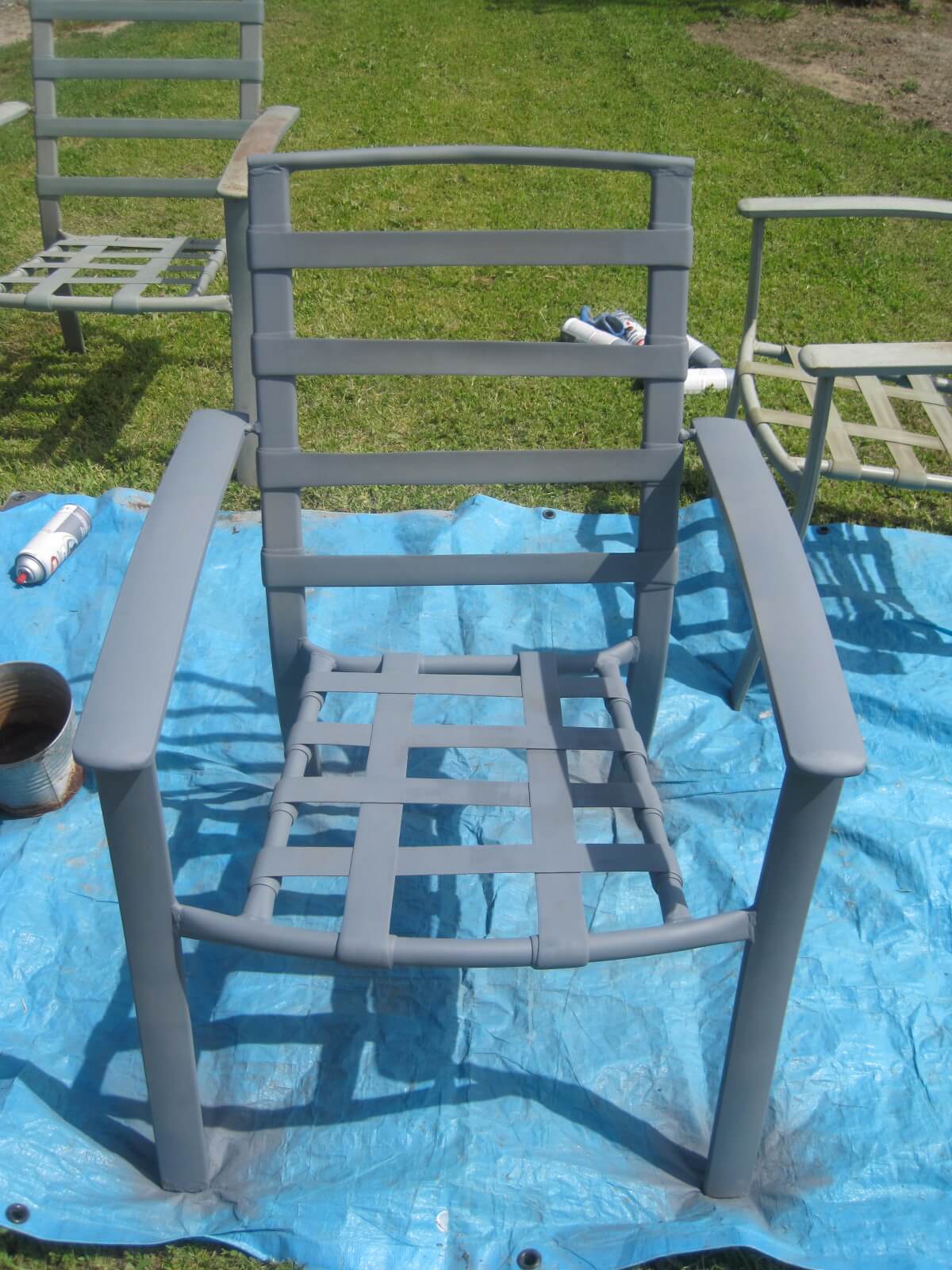 What a difference a little paint makes!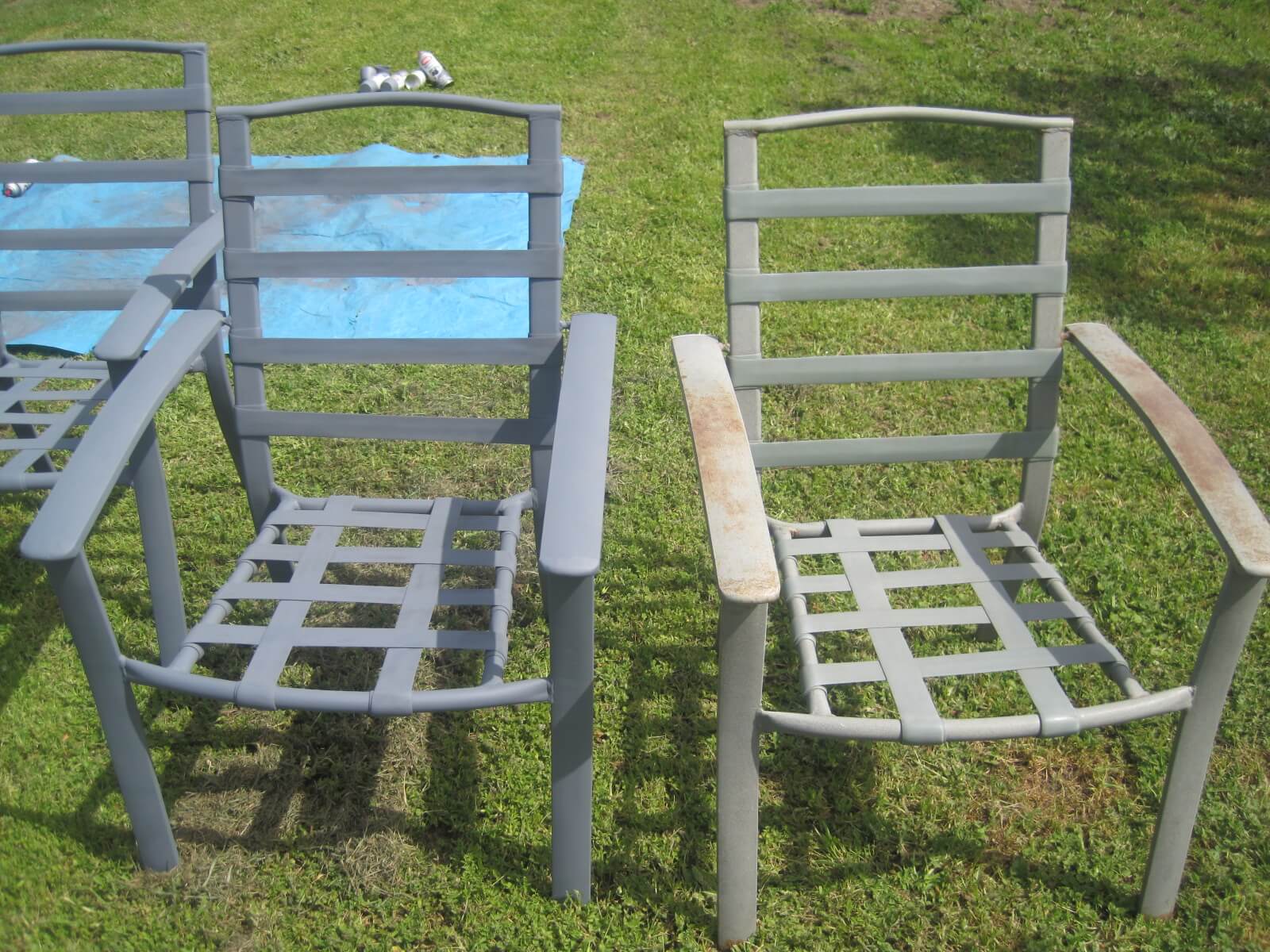 I've spray painted a few pieces of furniture in the past and have always hated the way it made my finger and forearm hurt afterwards. I will never spray paint again without one of these little guys. Well worth the $2.42.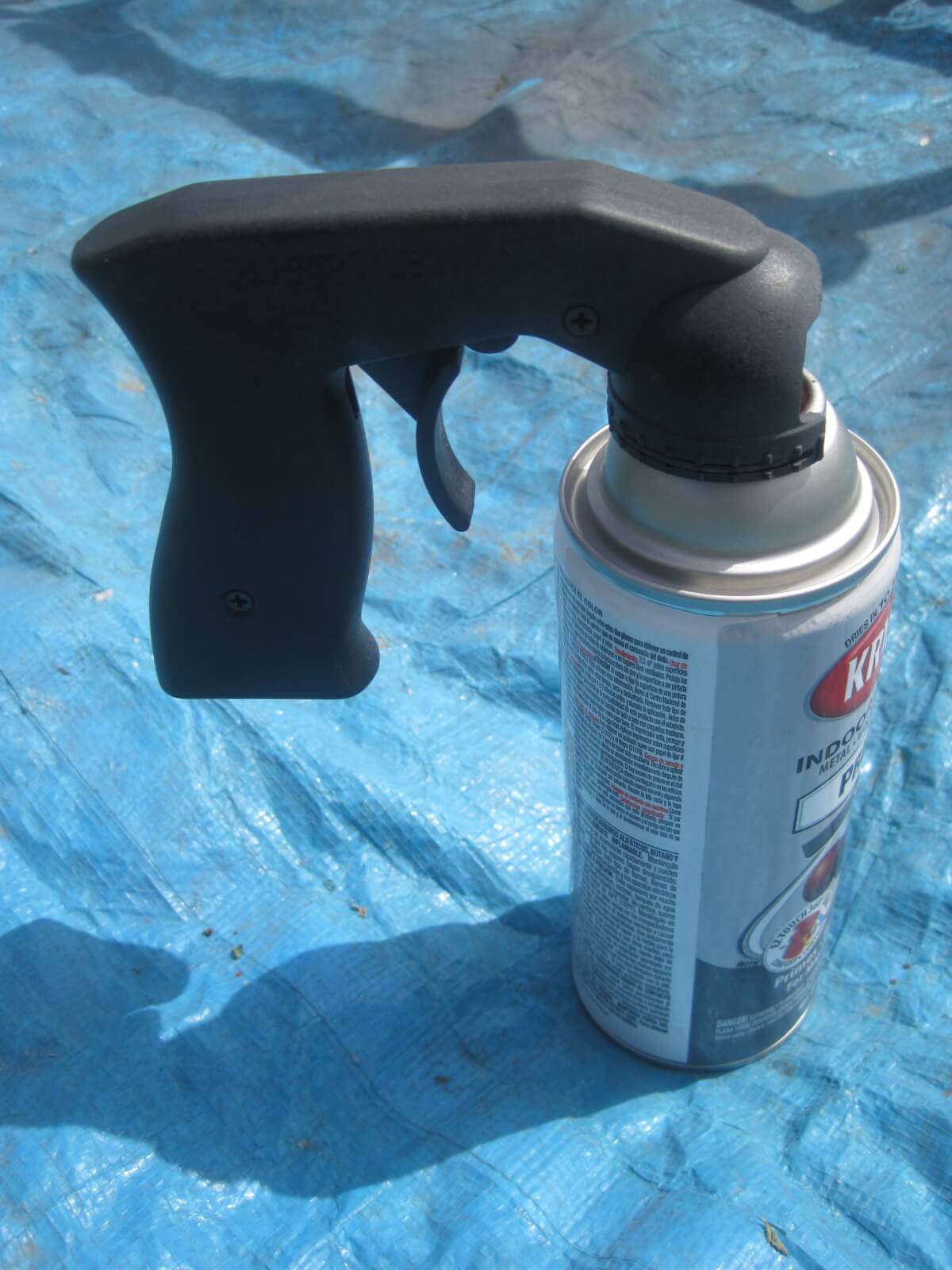 I spent the majority of money on the rug, side table, and seat cushions from Ikea, hanging lights from Cost Plus, and pillows and a few decorative items from Ross. So, I had to get a little creative with the wood wall on the side of the patio. I had my Dad make me some wood frames that I later covered with some left over fabric I had at my house. I felt so "HGTV" asking my personal carpenter to build me something ;0) You will see later in the post what these were used for.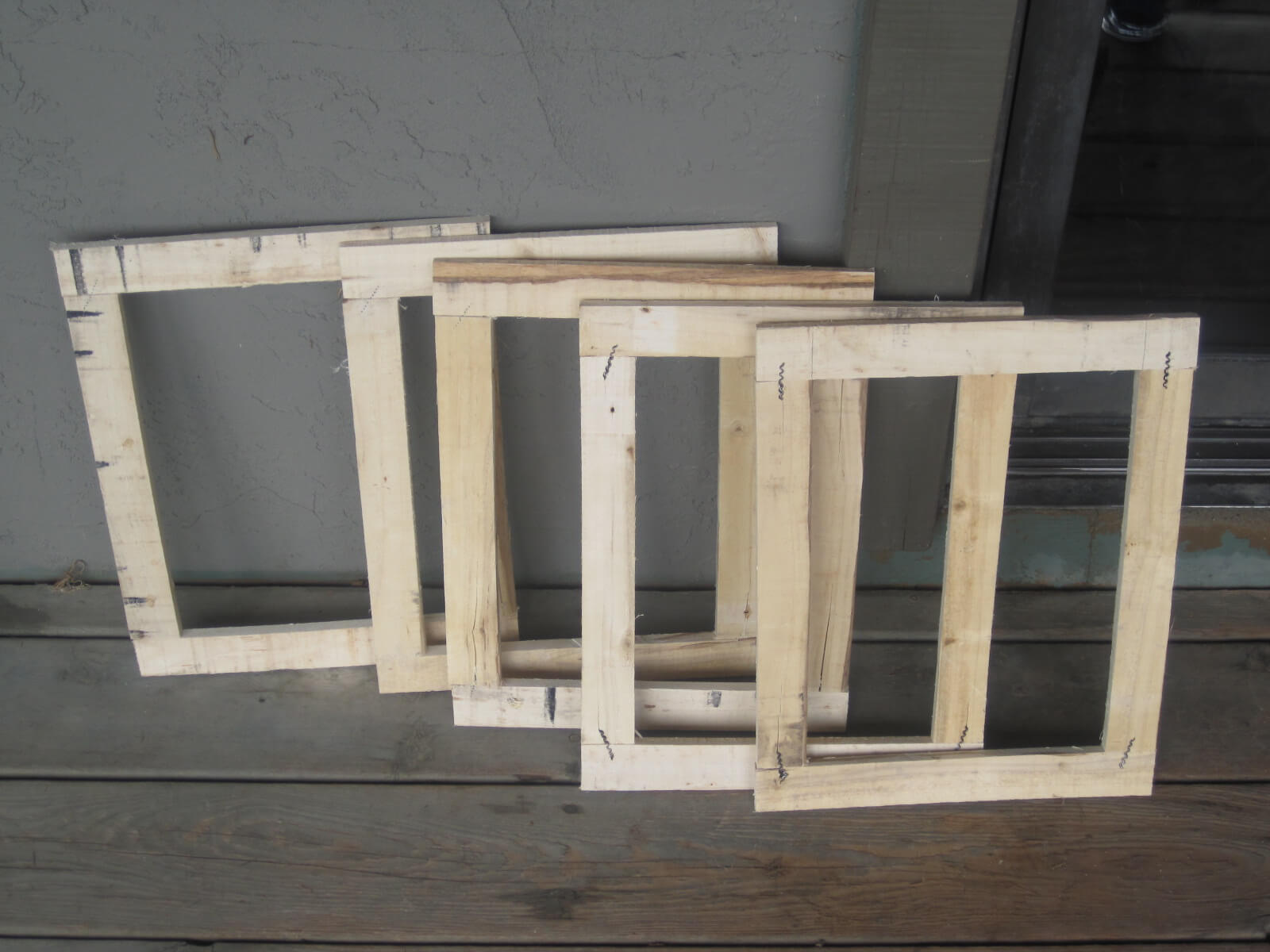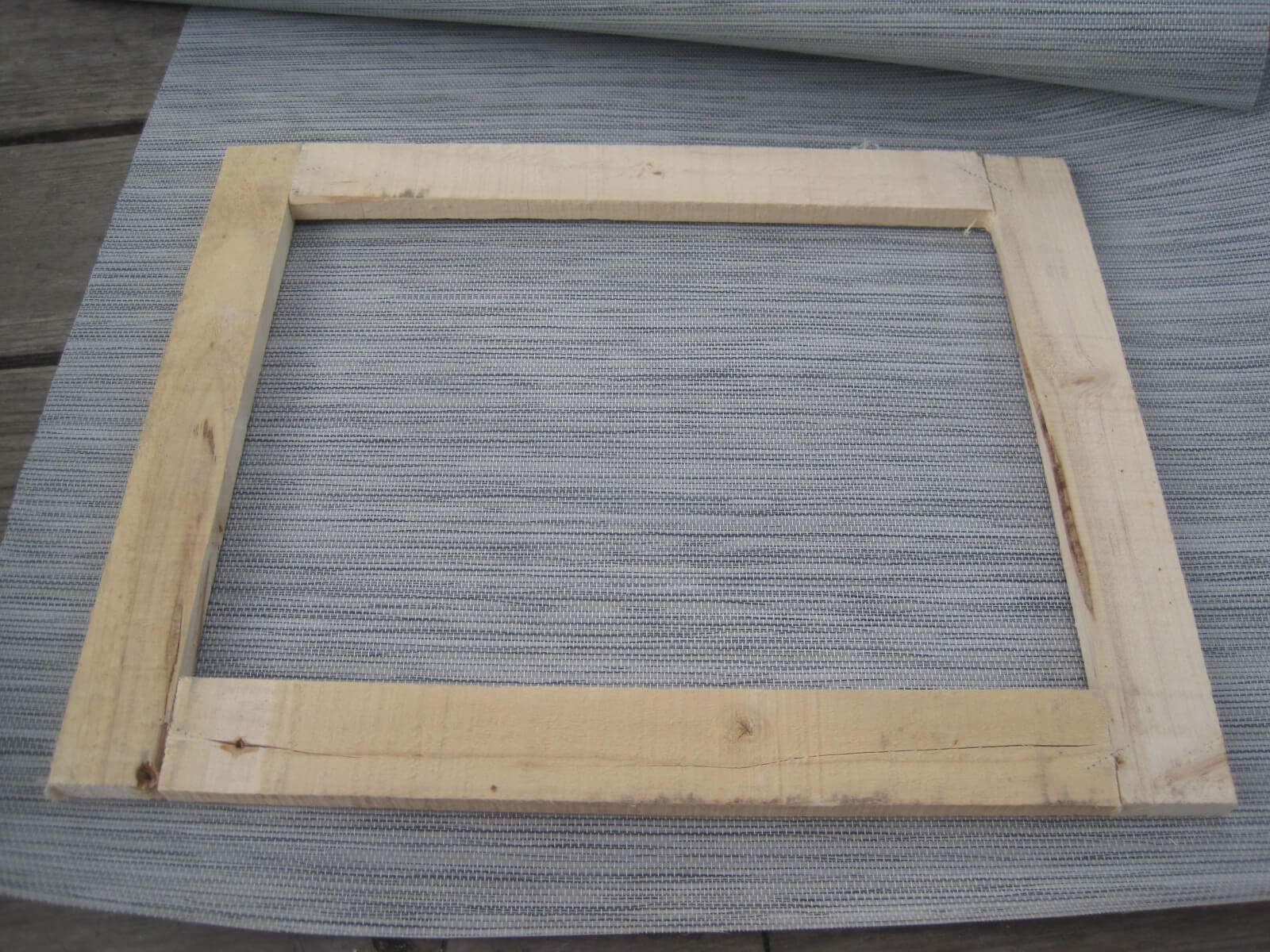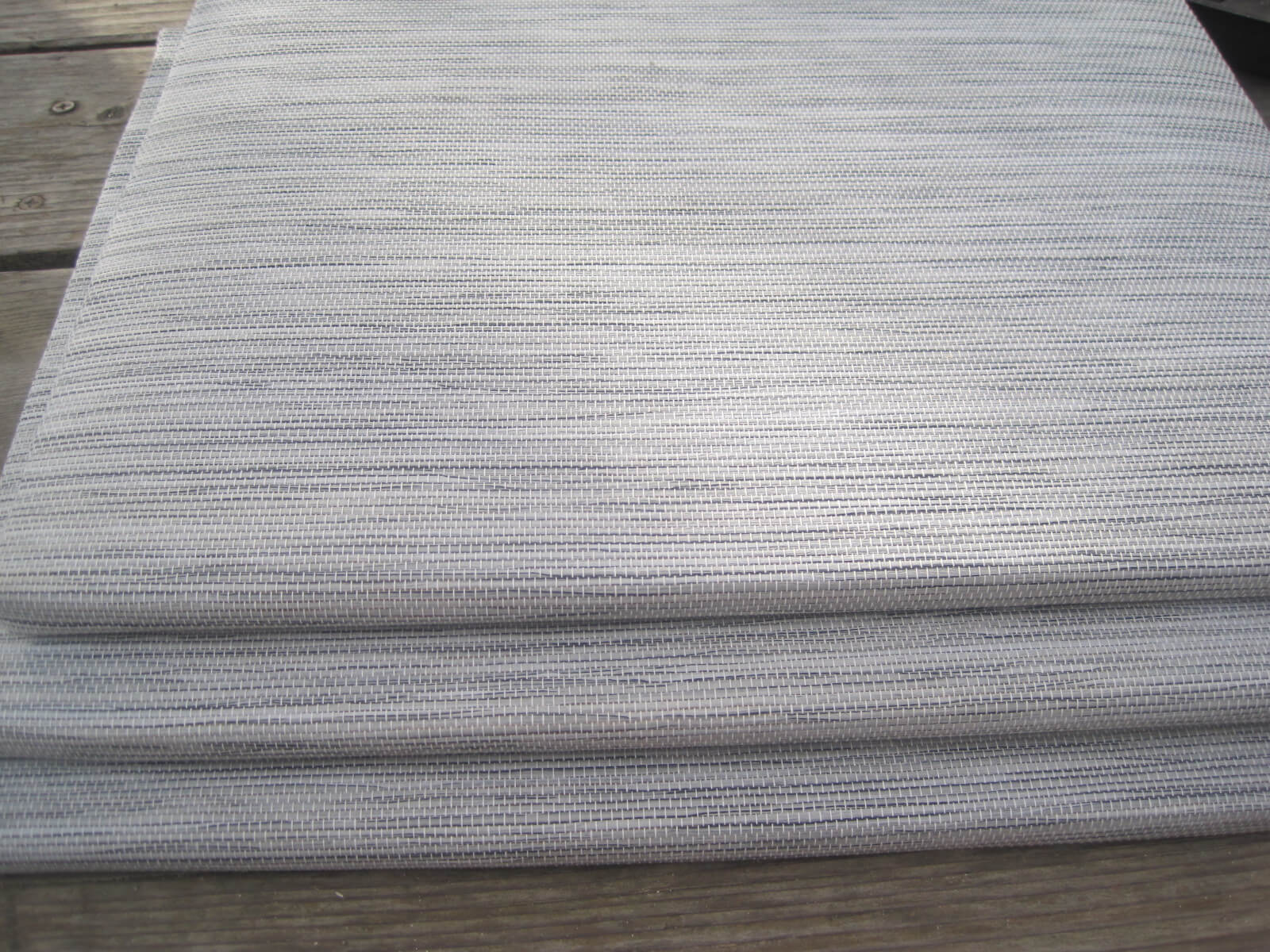 By this time, Gino was there to help me transfer some bright flowers into the pots for the patio.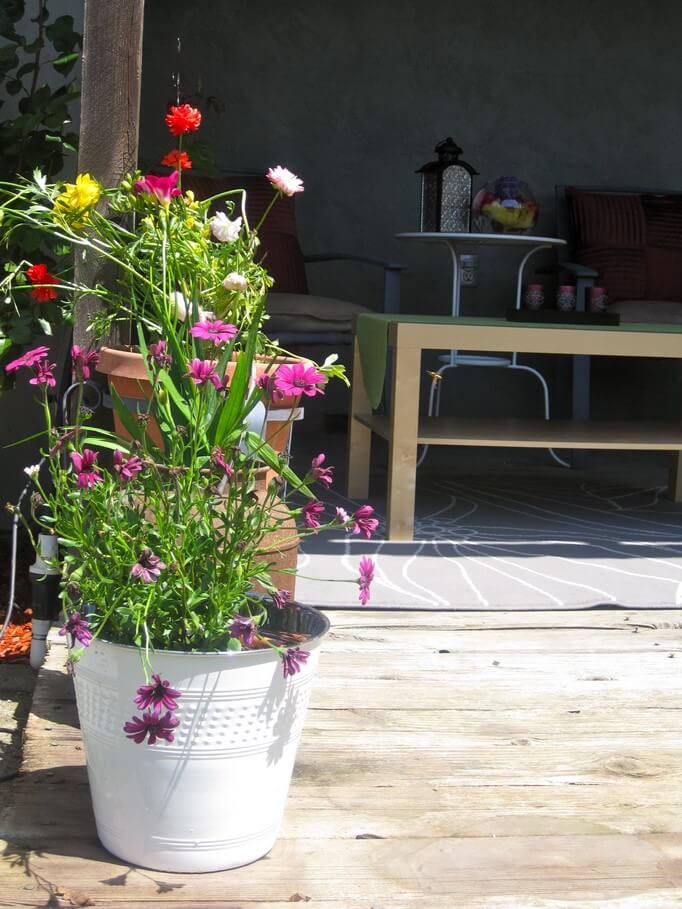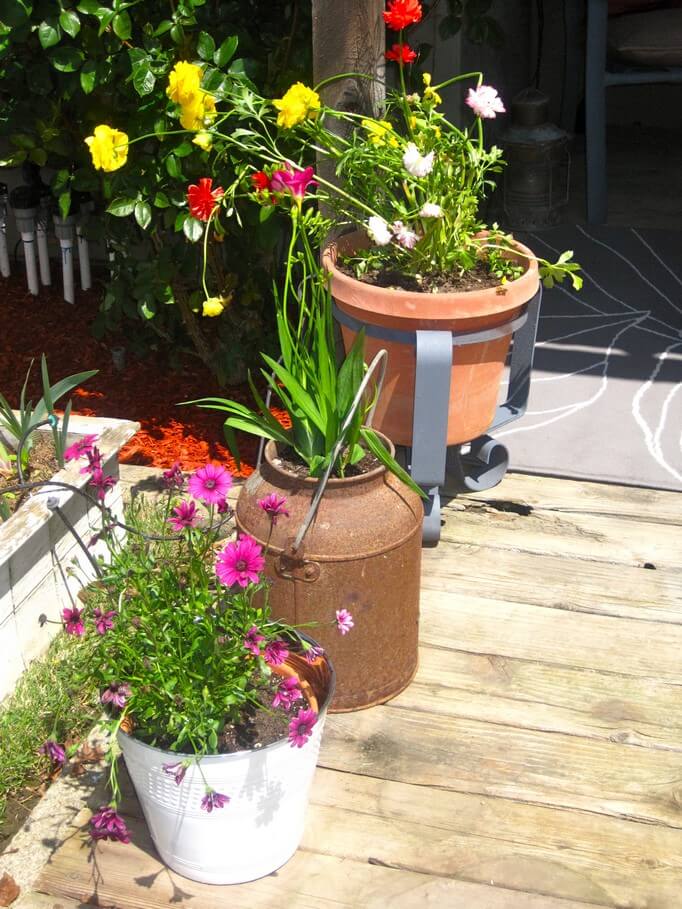 The white plant holder was $6.99 from Ross and the other 2 were from around the yard.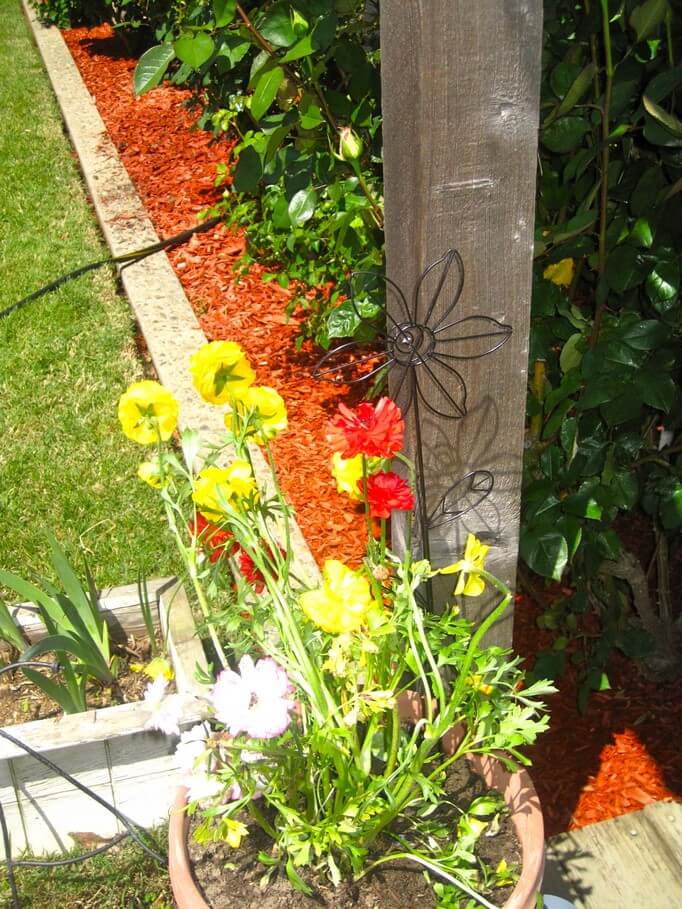 Here is the complete patio after!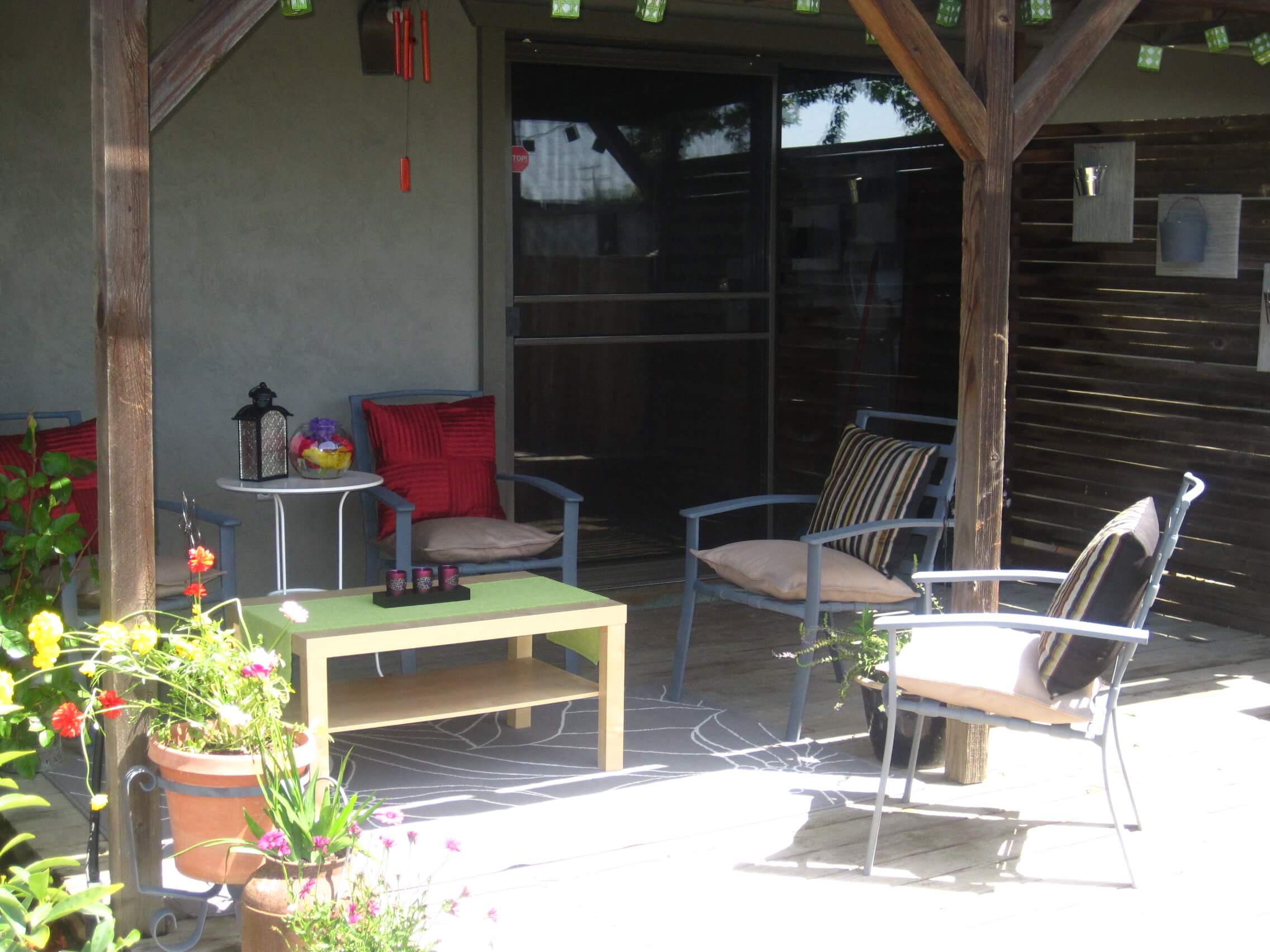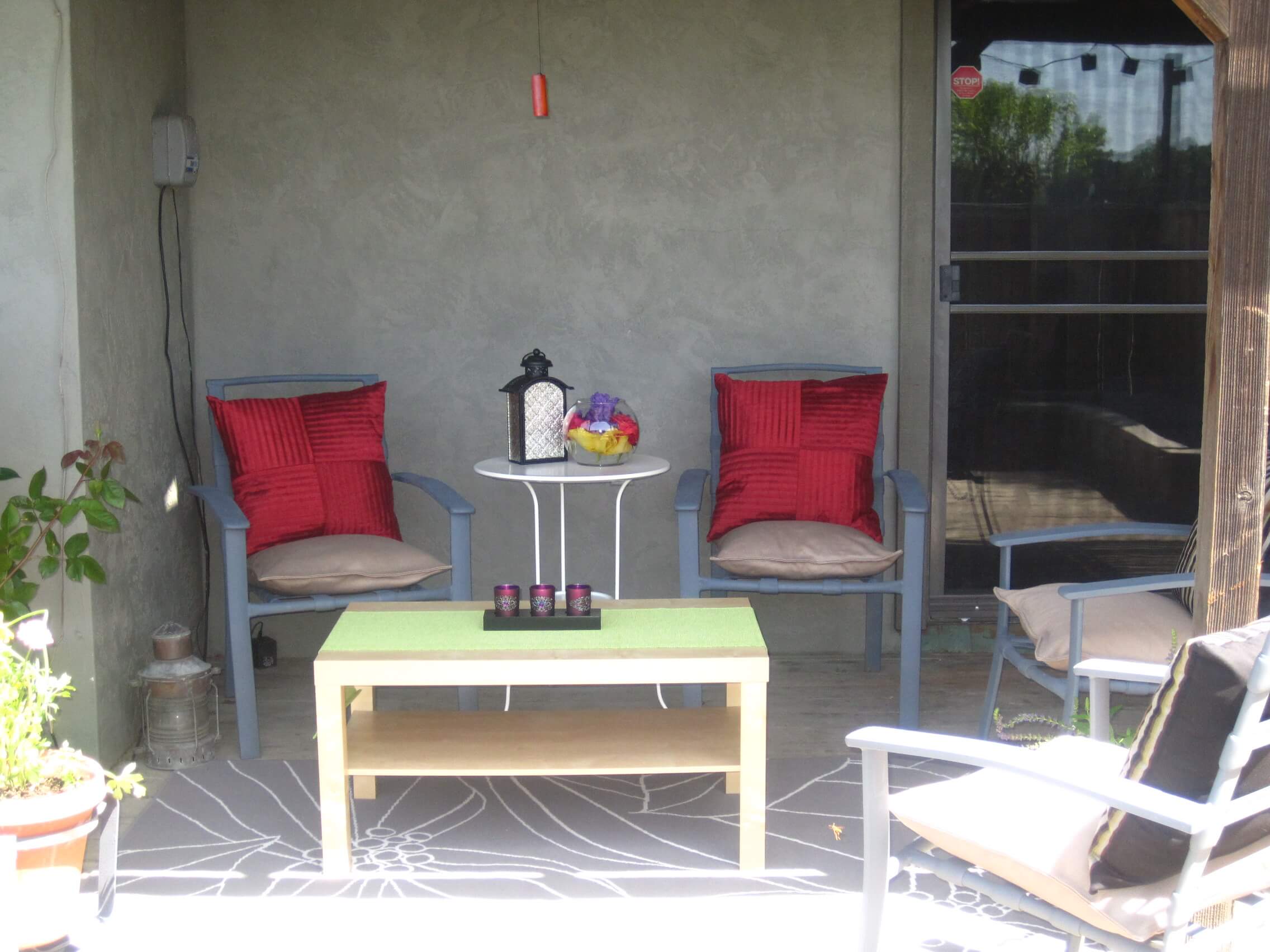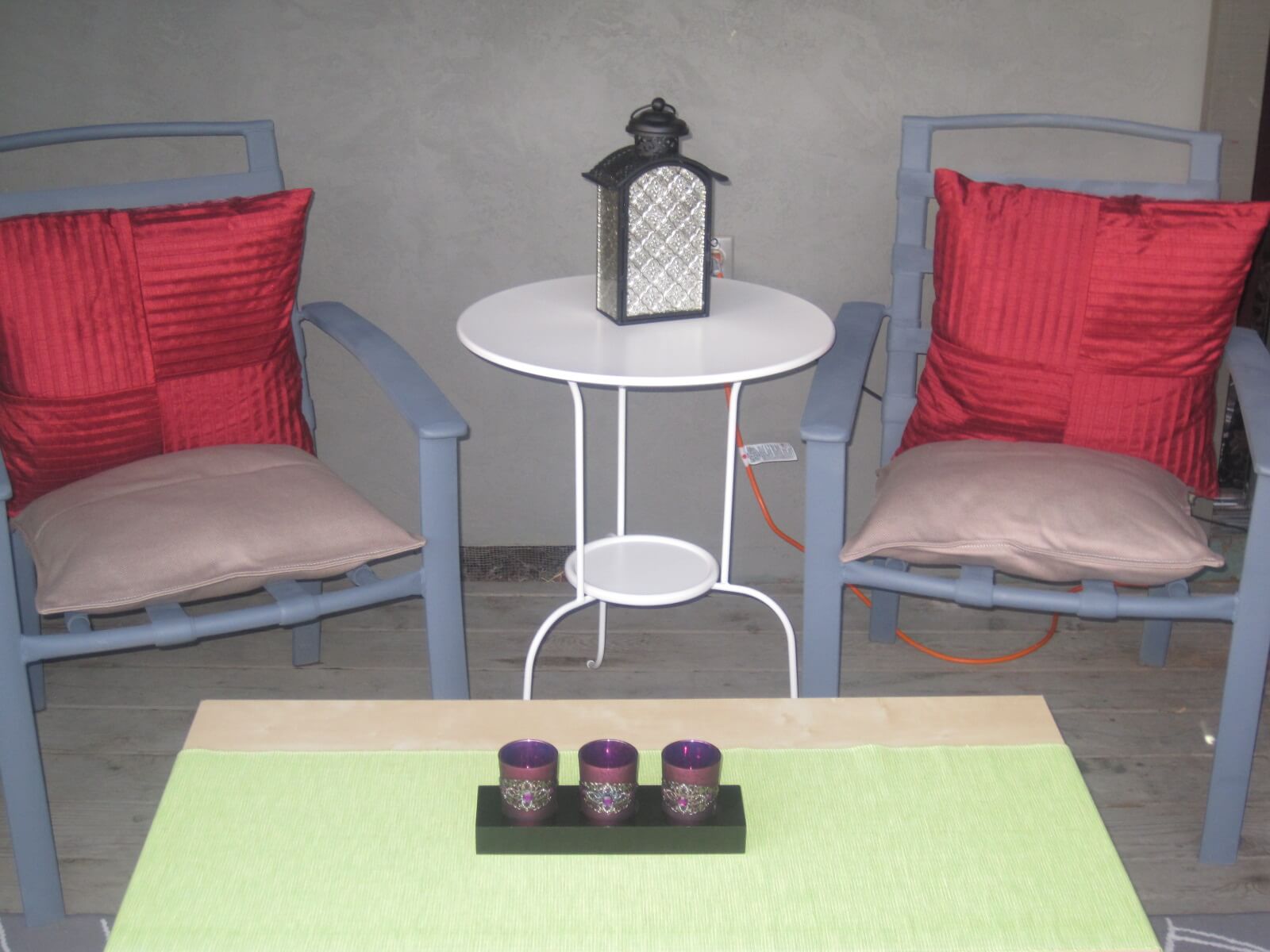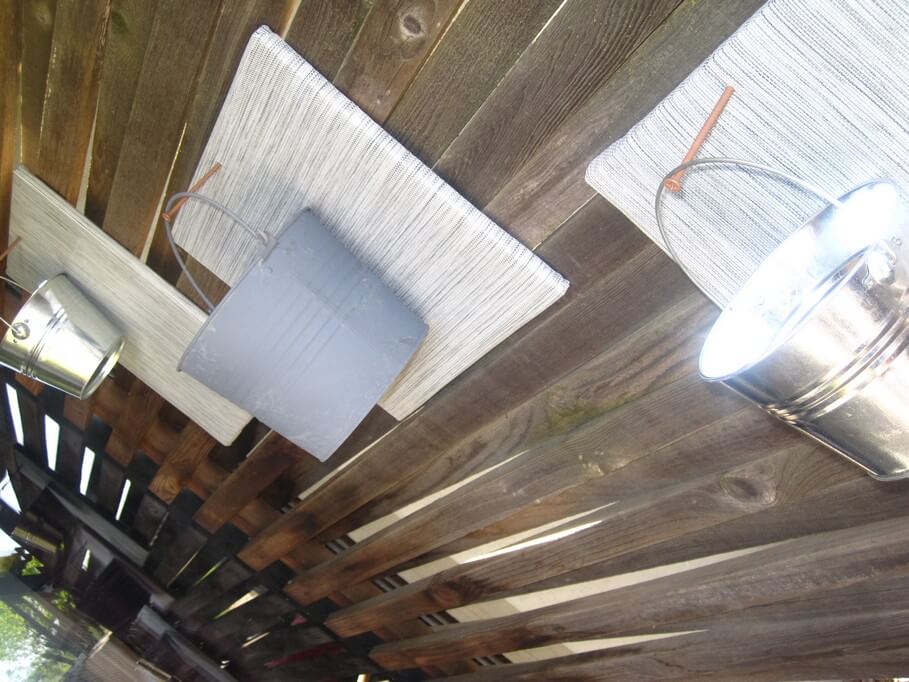 For the side wall I used the covered frames to hang a few buckets. The buckets can hold candles or fresh flowers and we tested the candles out at night, they worked lovely! It's a little rustic and I had to be resourceful but at least it is something =)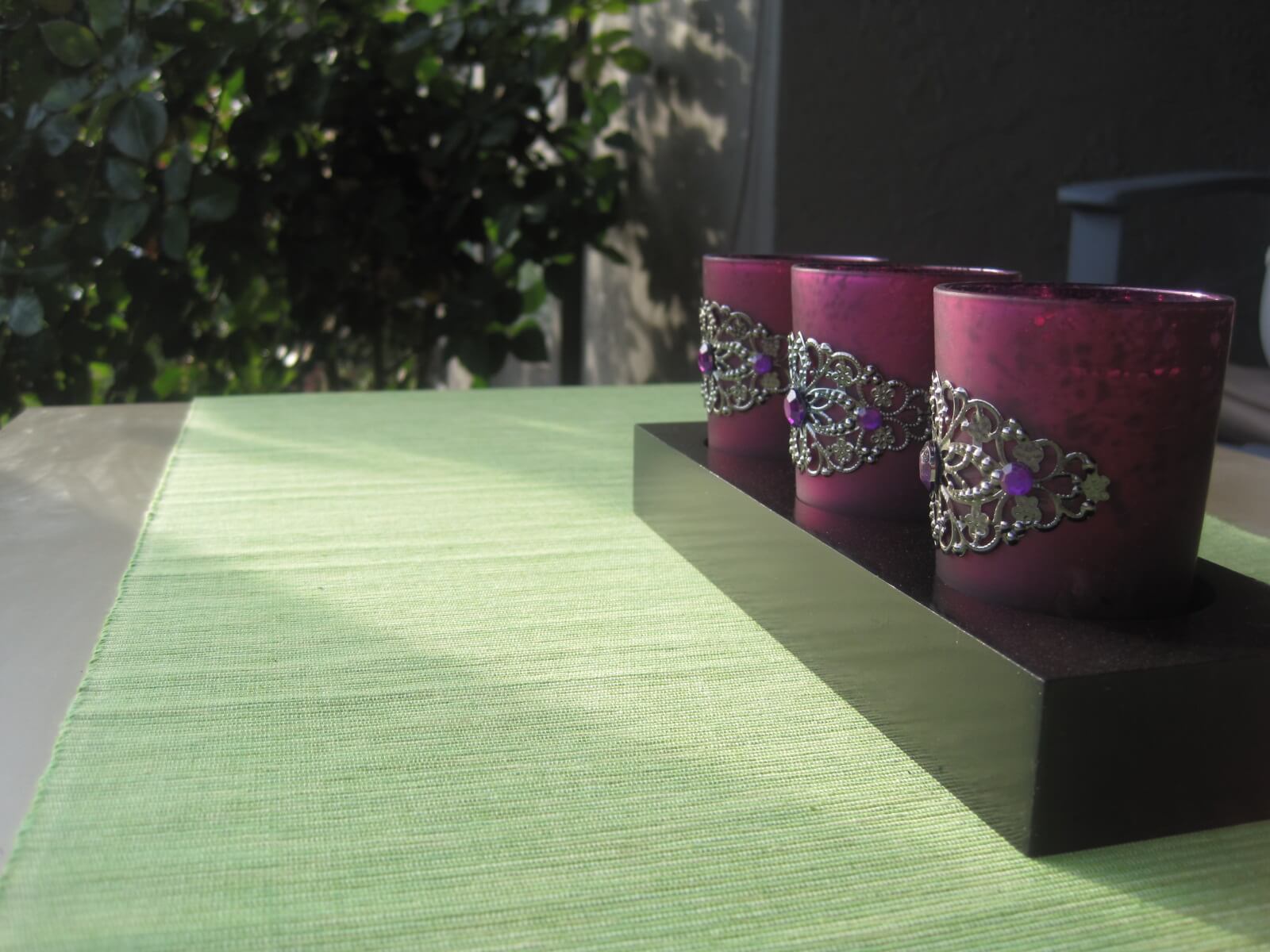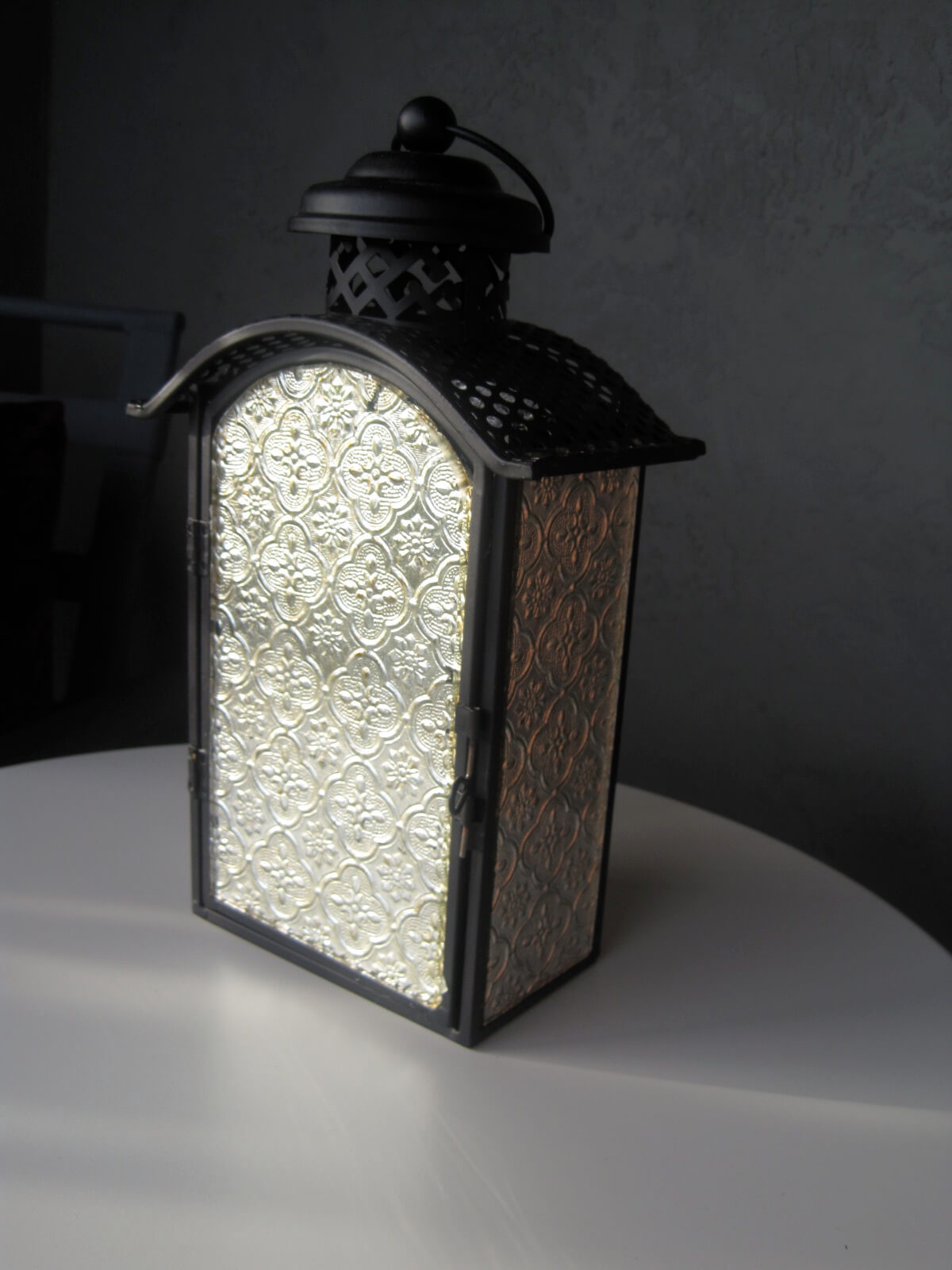 Here are a few photos at night all lit up.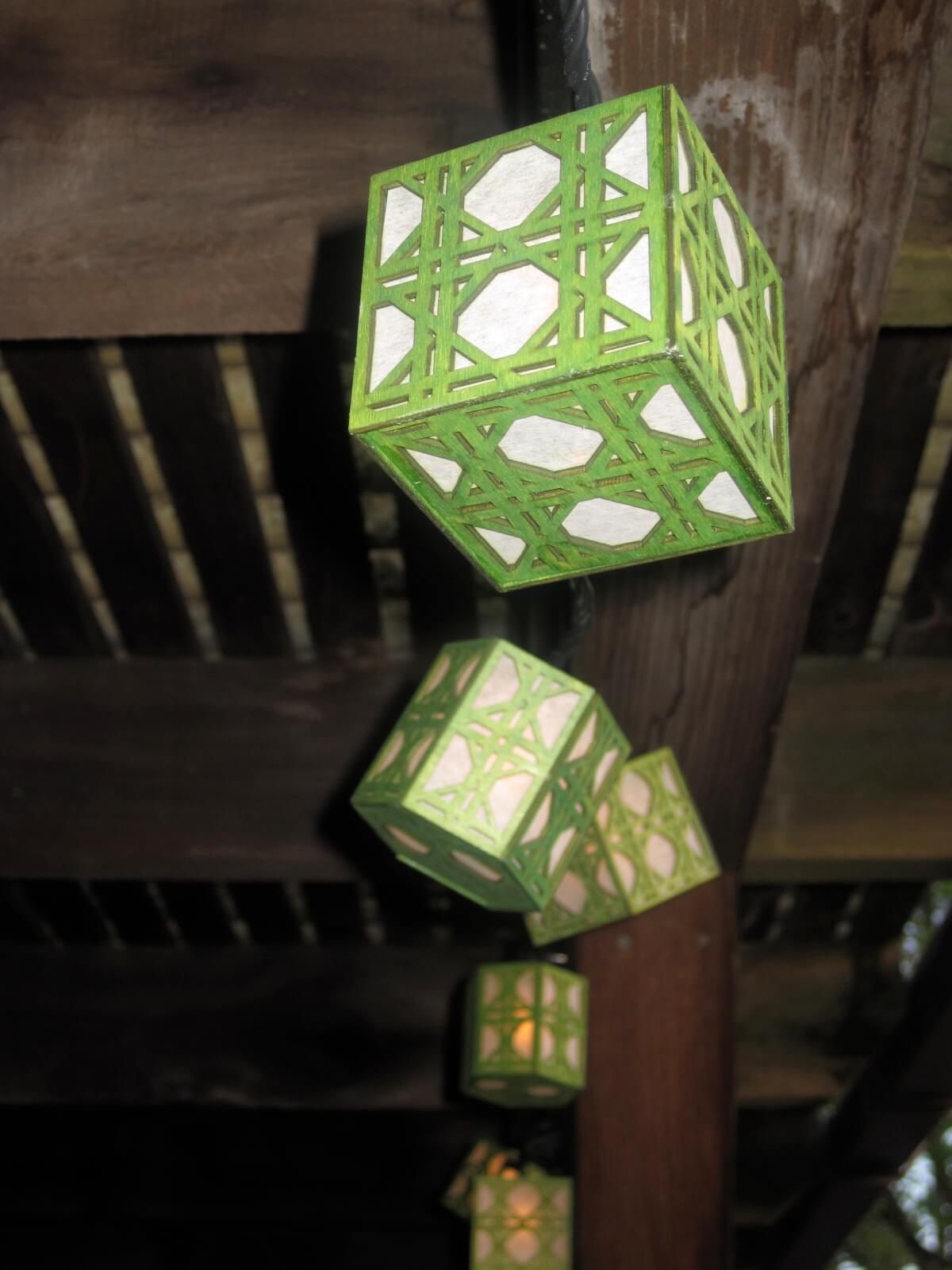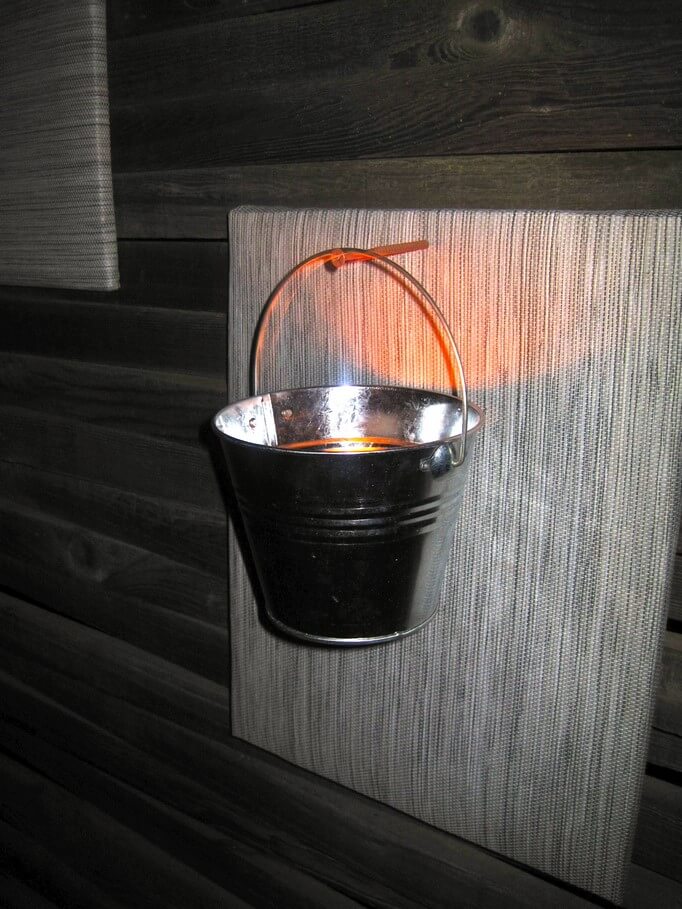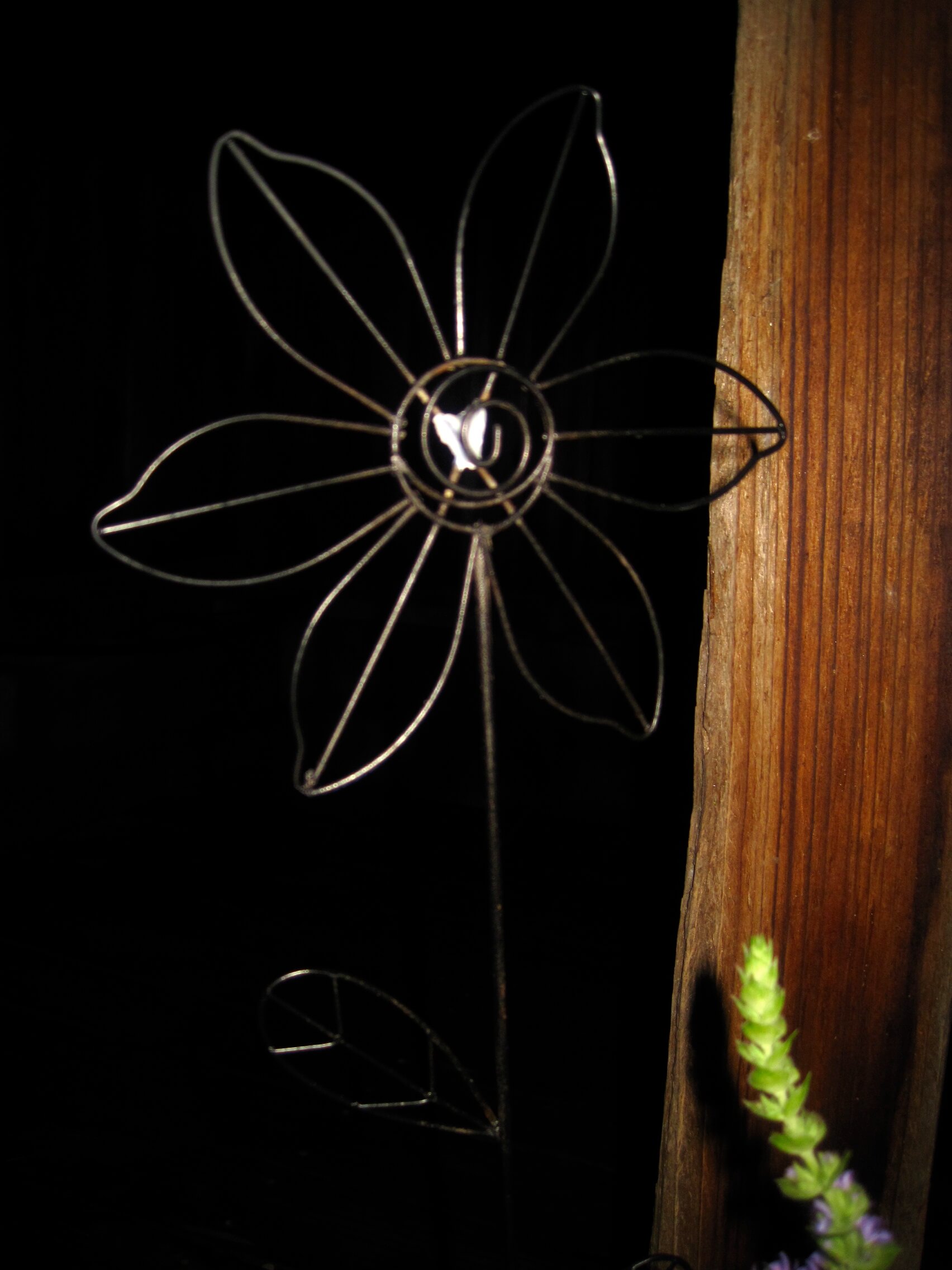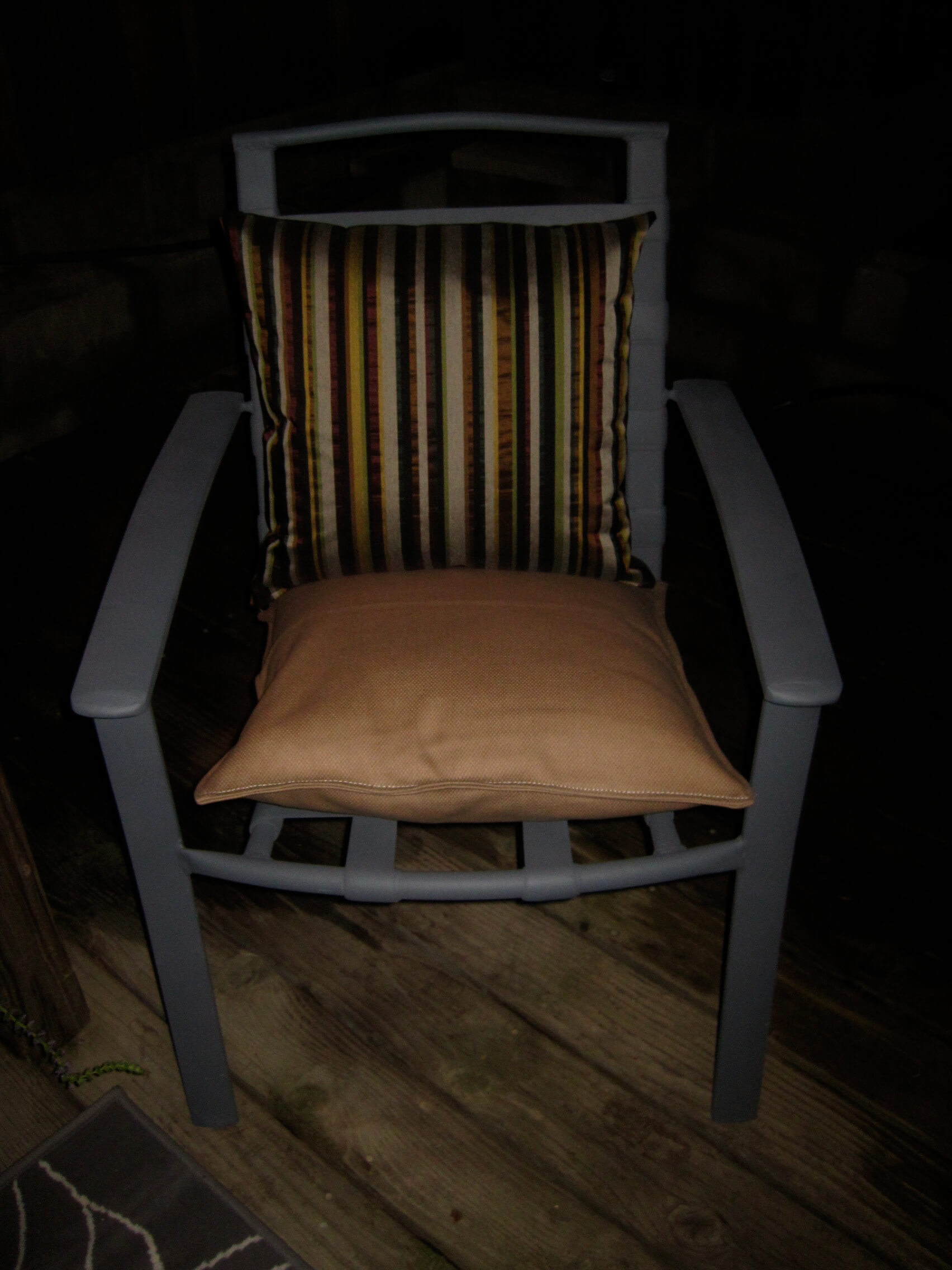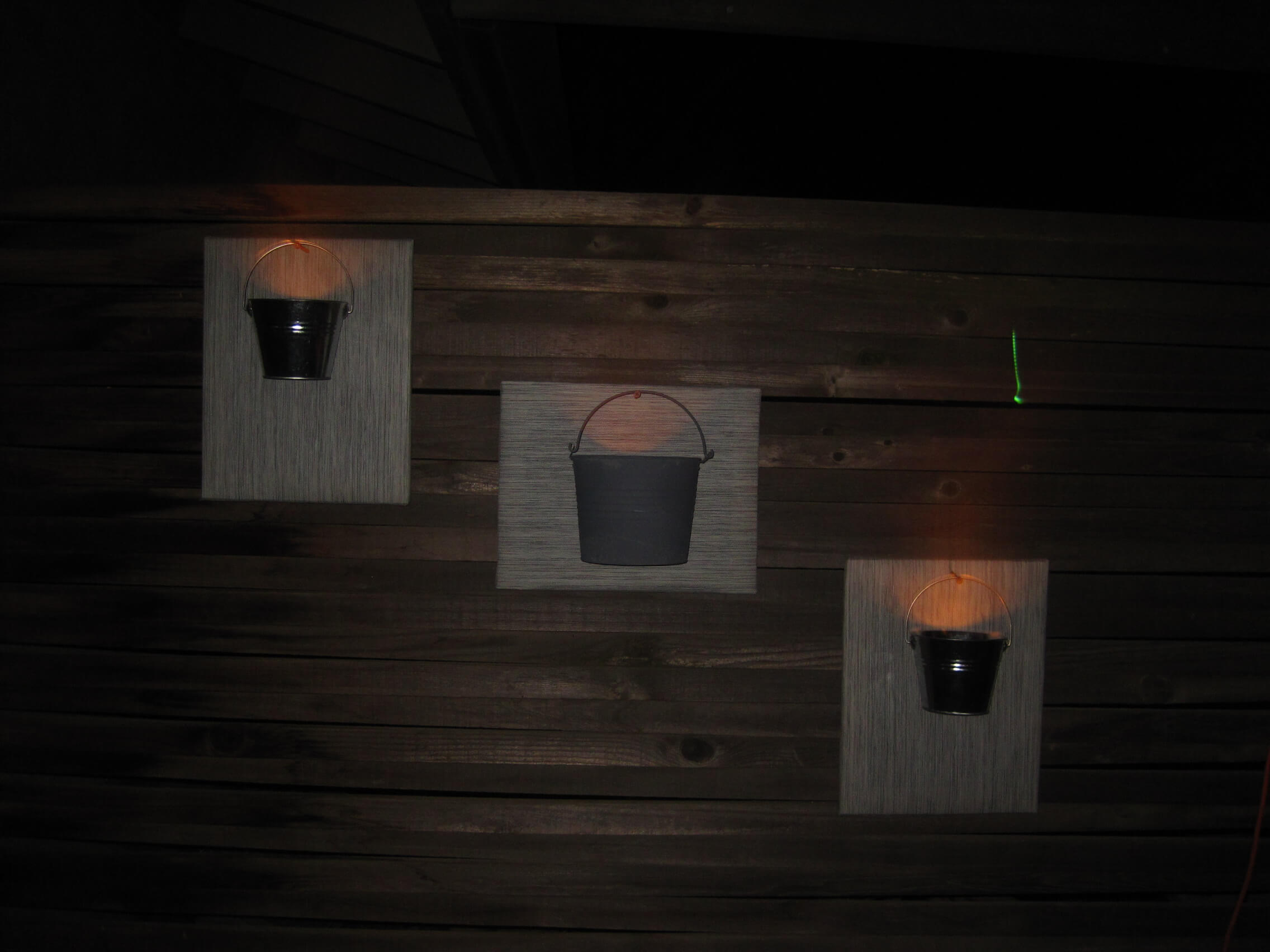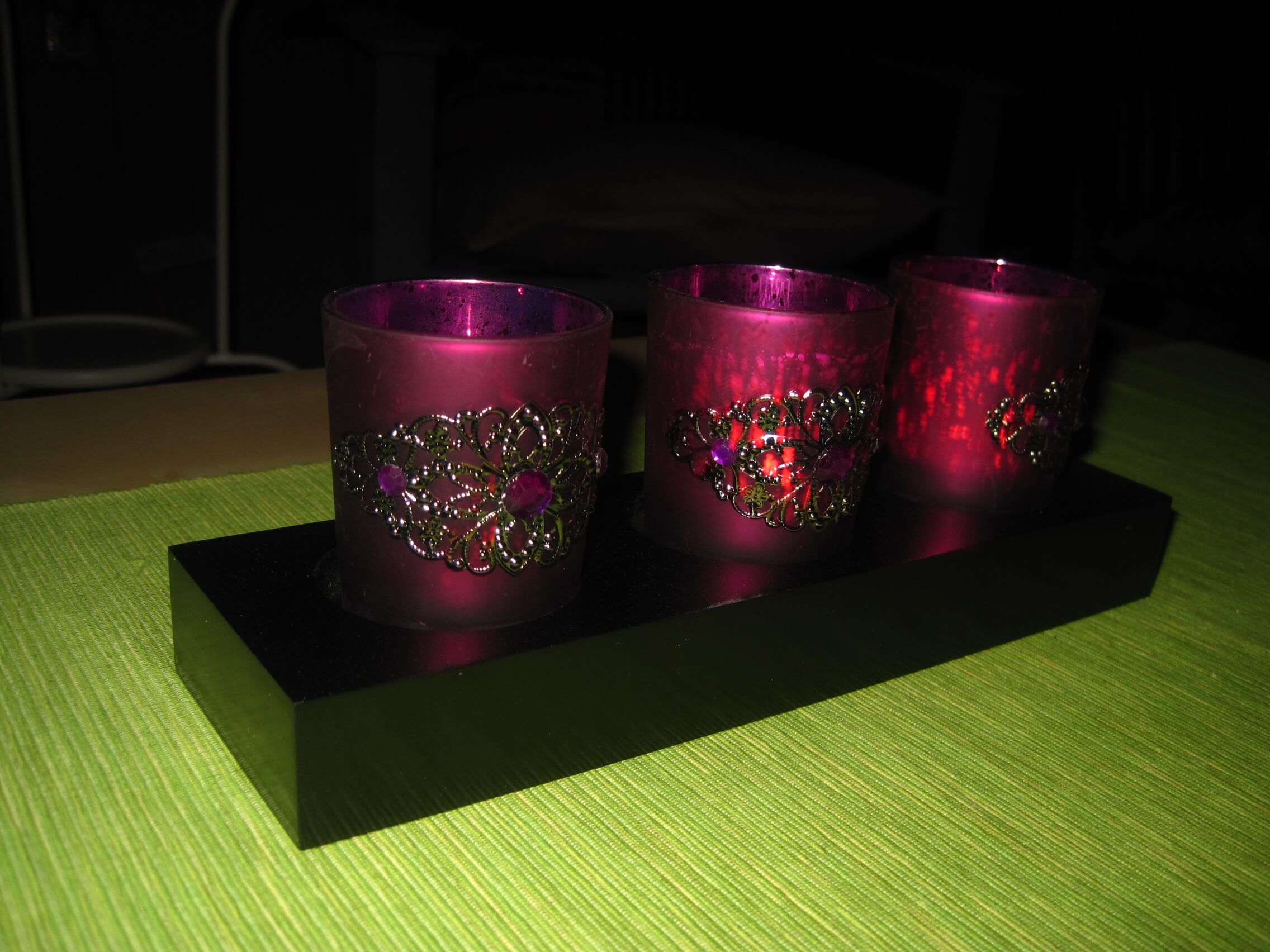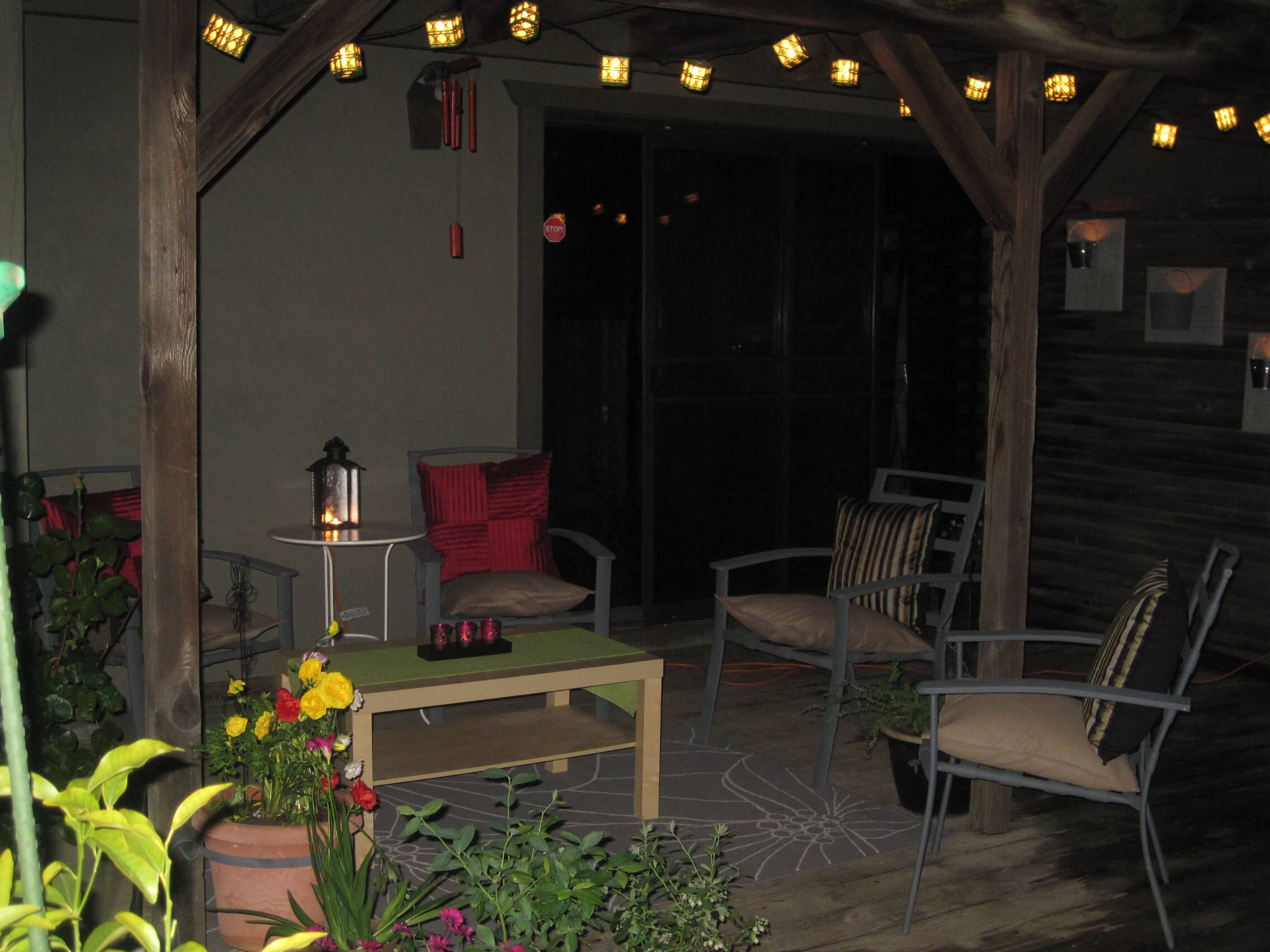 Cost Break Down
White side table = $19.99 / Rug = $19.99 / Green table runner = $4.99  / 4 seat cushions and covers = $10 each + Tax
7 cans of spray paint = $2.77 each / Spray grip = $2.42 + Tax
Decorative Lantern = $6.99 / White plant holder = $6.99 / Candles on table = $4.99 / 4 decorative pillows = $7.99 each  + Tax
2 strings hanging lanterns = $11.99 each + Tax
Dollar Store
Wind chimes, 2 black metal flowers, 2 lantern buckets = $5.00
The coffee table was a table we had from Ikea in our basement and were planning on selling it on craigslist. It was perfect for what the space needed so that was free.
Below are a few of my favorite pictures of some of the beautiful things fond in the yard.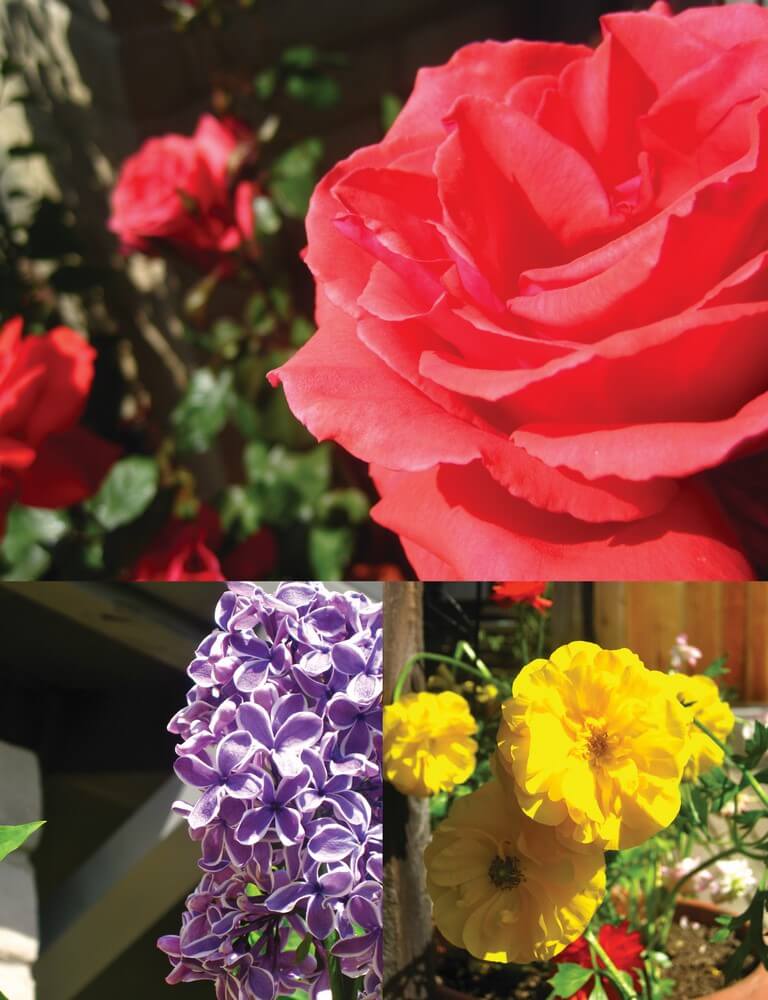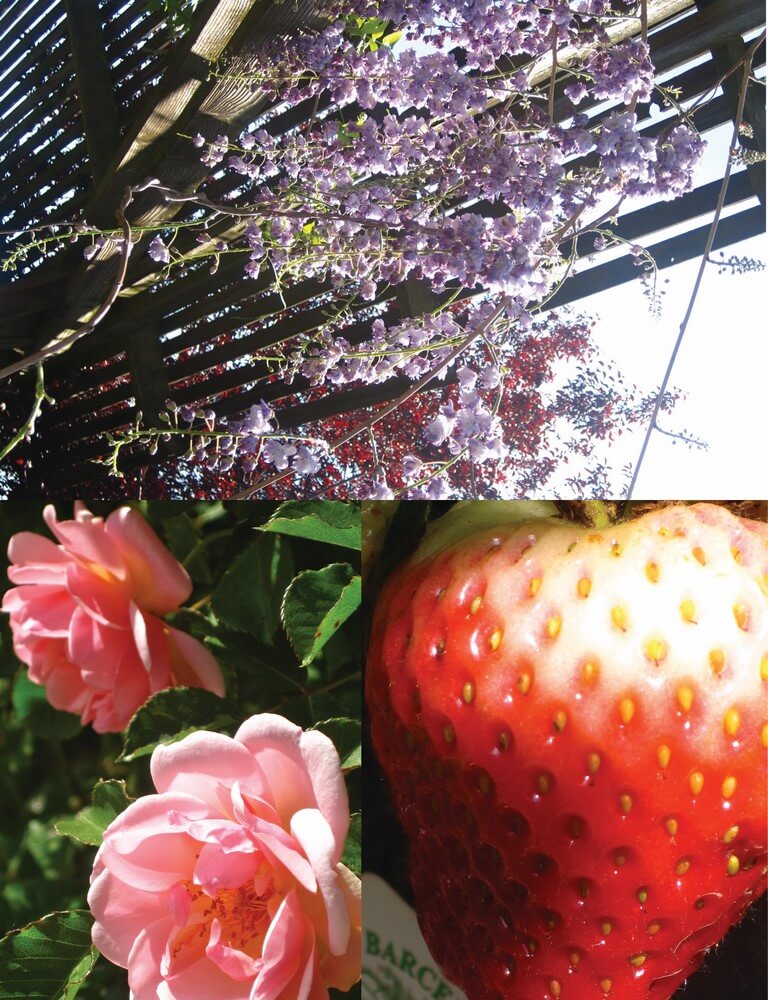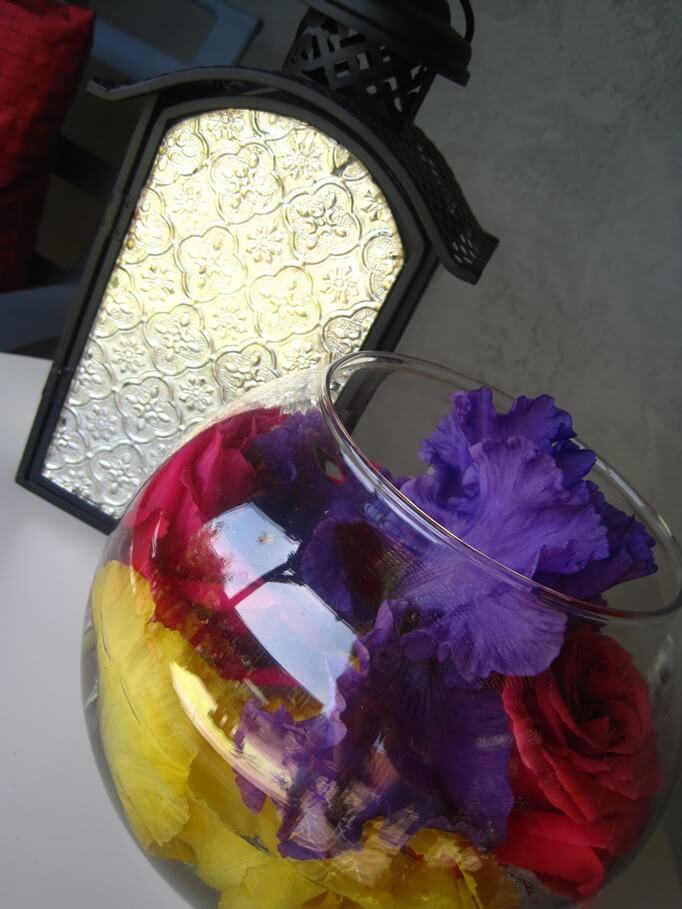 And finally my lovely Mother enjoying a break on her new patio!