I wrote this to our Little One 3 weeks ago but in the midst of transferring my blog to WordPress, I am just now getting around to posting it. This picture is from last week and I am at 19 weeks today, definitely sporting a bigger bump than the last time!
---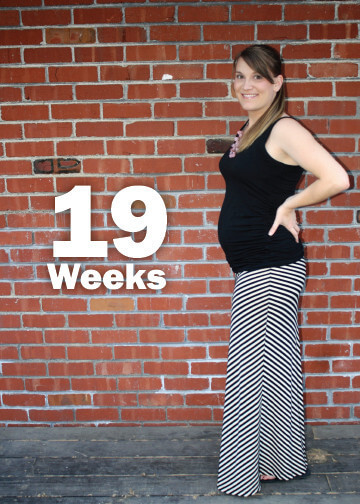 Hi Little One, oh my, where do we begin…. [Side note – just this moment as I sat down to write to you, you started fluttering.] I just started to feel you move this week and it is such an amazing blessing. I have honestly forgotten what it feels like to grow another life inside of me and I am constantly amazed by the wonders above!
I know this letter is little late because I started writing your brother, Luke, at 5 weeks , but I have been thinking about you constantly! Do not fret Little One, just because you are the second child (I am too) you will not be slighted, I PROMISE. It's definitely different when you find out you are having a second child and my reactions to this pregnancy are not what I expected, but this time is just as exciting and joyous nonetheless. I can attribute my different "reactions" to this pregnancy to the way you made me feel in the first trimester. KID – you have been driving me crazy! I told your Dad on multiple occasions during the first trimester that all I wanted to do was literally hibernate for a few months. Wouldn't that be great!? I think pregnant women should get a hall pass to hibernate for a few months during their pregnancy! I experienced all the usual suspects of pregnancy symptoms, but I had it so easy with Luke that, looking back, I think I was a little spoiled =). Felt sick all the time (got up at 2:00 AM on multiple occasions to eat crackers and drink milk), was more exhausted than ever, couldn't eat certain foods except I NEEDED to eat everything all the time, didn't want coffee (are you kidding me!?), etc. The list goes on but the silver lining is that I never actually lost my lunch, just felt like it always. Luckily things really mellowed out now after 12 weeks and here we are at 16 weeks.
We have another Dr. apt. tomorrow to check in and see how you are doing. I had an amazing ultrasound technician that let me watch you at our last 12 week appointment for, no joke, like 10 minutes. It was so sweet and exciting. So far with you, we have been saying that we aren't going to find out if you are a boy or girl. If we can get through the big ultrasound at 20 weeks, I think we will make it without knowing. I am excited for what a big surprise we will have on your birthday. Fingers crossed your Dad doesn't try and convince me to find out!
Until next time Little One, keep on growing and stay safe. We all love you with all of our hearts!
Love, Mom