Project 365 is back and I am ready to start keeping up again now that Luke and I are a little more acquainted at home =) The last post I did was Day 284, two days before Luke was born. I am skipping about a month and am picking back up at Fathers Day, Day 320. Just 45 more days until I am done with this year's photo documenting.
Day 320 – Sunday, June 19th
Happy 1st Fathers Day Gino! I have no doubt this little boy is going to want to be just like you, his awesome Dad!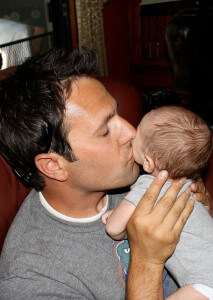 Day 321 – Monday, June 20th
"I'm one cool dude. Yes, that's a shark in my reflection!"