I treasure these journals right here. One Line a Day. I've been writing in these little things for six years and I absolutely cherish the memories I've captured.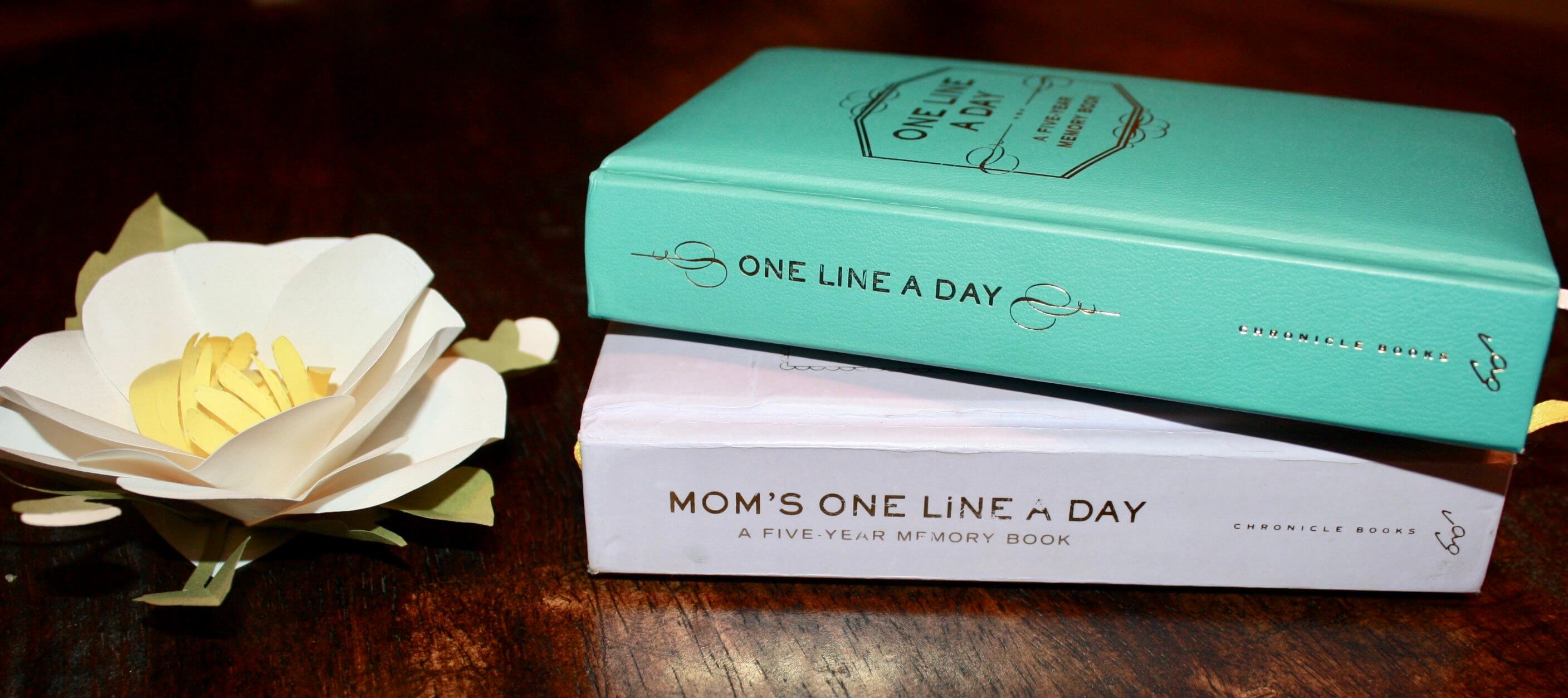 Looking back, I wish I had enough sense to buy all my friends them as gifts when they had their babies, got married, or just because. The good news is that you can easily get them on Amazon here! There are a ton of options and they aren't just for moms.
I found my first one in San Francisco six years ago when we were visiting our friends Jamie and Noel. Luke was about 10 months old. My first entry was:
The sweetest sound is listening to Luke breathe while we nap in the rocking chair in his room.
In the years following, I've documented everything from my boys' first steps to the first night we slept in our new house. I've also documented the not so great things that make our lives real, honest, and raw. Like job stresses and what I felt when Bob died.
This is one of the most consistent and valuable things that I've dedicated myself to. I sit down and catch up on writing daily memories, curled up in the corner of our couch after the boys go to bed, or with my coffee on a weekend morning. Don't get me wrong, I DO NOT have every day for six years filled in. There are many holes, but when I skim through, it paints a picture of the little bits and pieces of daily life that make up my world.
Last week as the New Year approached, I began thinking back on 2017 and loved being able to relive some of these memories. And, the best part about this type of journal is you only get a few lines per day. So really, you can't over think it or screw it up. Plus, here's a little tip – if I fall behind, I use the dates on my phone photos or go back and look at my texts with Gino. It's so much easier to remember what we were doing and when.
This is not sponsored. Ha ha, I crack myself up, who am I kidding, nothing on my blog has ever been sponsored!
Seriously though, I really encourage any of you who read this to get one. January is the perfect time to start simply noting one memory a day and I guarantee you (this is not sponsored, so there's no refund) that you won't regret it.
Here's a glimpse into my world from 2017.
January
Noel and Jamie came over today and we cooked an awesome dinner. We found out they are pregnant!! She is feeling pretty good, just really tired. We are so happy for them!
February 
This morning couldn't have been better for the boys' first experience in the snow. We woke up to a covered fresh foot of snow, played, walked, explored, and went sledding. Olympia & James came around 4:30.
March
Something got tweaked randomly in my neck/back today at work and I was in some of the most pain all night that I've ever experienced. I had the worst night's sleep. I really empathize with my Dad right now and the pain his back constantly gives him.
April
Busy day at work, busy finishing up last-minute media pitching for our InspireMidtown Equal Pay Day event tomorrow and I got home to find out our event coasters got stolen or lost in the mail. I am so upset. I drove to the dollar store, bought 40 coasters, and mod-podged the design on them myself so we at least have something at the event. Ugh.
May
I had a really bad interaction with Luke's K teacher today. She "forgot" to sing happy birthday so I asked why. She then made excuses about a safety incident so there was no time and closed with, "You should try and be in the classroom more in the future so you know what goes on daily." I was fuming. My apt. with the principle is next week.
June 
LONG day at work getting derailed from everything I had planned. We did some slip-n-slide action and had sandwiches and salad outside for dinner. Hottest day yet – 108.
July
The first day of the Lean In conference was incredible! I had an awe-inspiring day that ended with dinner at Sheryl Sandberg's home! (Author of Lean In and Option B, oh and COO of Facebook!)
August
I committed, practiced, researched, and worked so hard to make this happen. I am proud of myself for launching Take Away Hate today in a 30-second pitch in front of 150 people at Creative Mornings. I can't wait to see where I can take it.
September
One of the cutest things 2-year-old Leo says when he can't remember the word for something is, "I can't talk right now Mommy. You talk." Basically, he wants me to remind him of what word he is trying to remember. You can literally see his brain turning trying to think of the word!
October
In the middle of the morning (10/9) one of CA's most devastating fires started, actually, many of them. Mass evacuations happening all over Santa Rosa, Napa, Sonoma and more. So scary. We have friends and family all around there we are praying for.
November
Took the boys to G&G's house and got on Amtrack to see Tadeschi Trucks Band with Toby, Larry, Parker, and Lauren. It was so fun and we had an awesome view of Oakland from our 19th-floor hotel room!
December 
What a great night. Gino surprised me with Lumineers tickets and pre-arranged a babysitter – I was so excited! We also happened to see Andi and Kevin so we got to watch the concert with them. SO FUN.
So there it is, 12 of my 365 One Line A Day memories for 2017. Some of my friend and family are probably now wondering if I write about them in these books, huh? Probably. But I think I'll lock them up now for safe measure. Just kidding. Love you all. Thanks for reading and letting me share a little bit of my world with you.