I had the pleasure of celebrating Father's Day all weekend long with both sides of our families! I hope everyone had an opportunity to spend time with loved ones this weekend and to tell their Dads just how special they are. Love you Dad and Happy Father's Day to all the wonderful Dad's out there! Wishing you a great week.
Father's Day was a great excuse for me to do some party planning! Friday night we cooked a farm fresh meal for my Mom and Dad. I found a bouquet of flowers from
Trader Joe's
for just $6.99 with a masculine feeling and bright yellow and orange colors which were perfect for our dinner centerpiece that lasted all weekend long. We finished celebrating the weekend with my husband's family at our backyard BBQ filled with fun doggies, an adorable baby, good food, and tasty white wine sangria!
For my dining room centerpiece I used recycled cans and jars to break up the centerpiece and spread the flowers out a little more.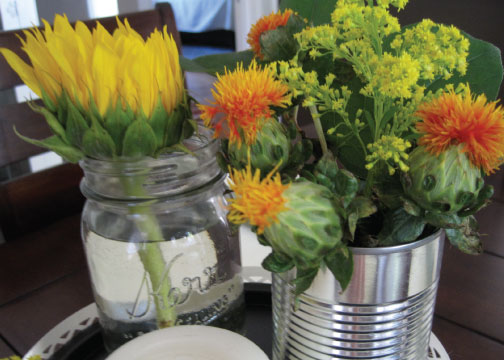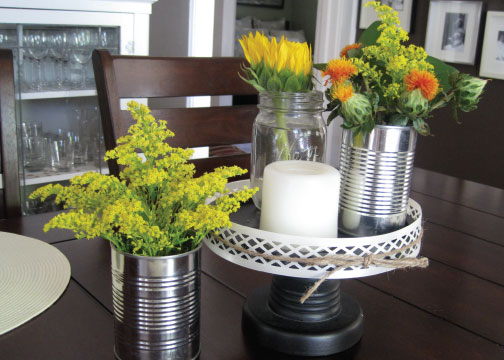 I also found these two treasures from
Trader Joe's
, man I love that store! This adorable little succulent plant for our coffee table and bright pink carnations for the entry hallway.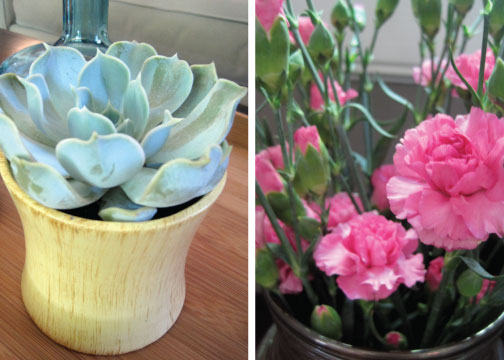 You might have seen from my previous
posts
that my parent's have a gorgeous backyard with so many bright roses and my Mom brought me some which fit perfectly in the nook over the fireplace.
And finally, we have two big hydrangea plants in our front yard and we have been waiting for them to fully bloom all spring. Summer is here and they are still not full, so I don't know what they are doing but this is what they look like now.