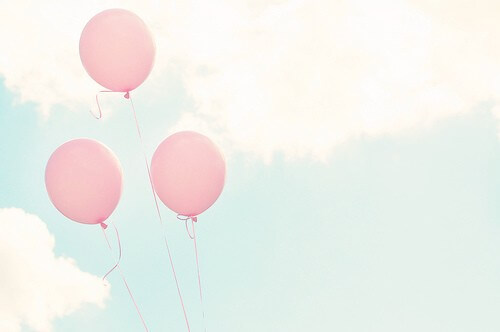 As I sit down to write this post I feel at a loss for words, but at the same time, I am filled with thoughts and words floating through my mind and heart. Today I simply went through the motions, fighting back the tears that kept trying to surface, and sometimes they just wouldn't go away. I picked up my sweet baby boy from daycare today and he gave me a long, comforting hug after running into my arms. It's like he knew just what I needed. I couldn't hold back my tears anymore, I was so thankful and blessed to have him in my arms. All I can think about is her family, her husband, and her sweet baby girl, otherwise known as "Madame". I have some guilt for feeling so sad and upset knowing that so many others so close to her are grieving so much more than I. I guess sometimes writing things out or doing something tangible is my way of working through my feelings, so forgive me if this post drags on. It's more for me than for anyone who might read it.
Yesterday, on her 34th birthday, the world lost a bright light. Christina Rosales (Pirruccello) was my friend, a mother, a wife, a daughter, a family member, and an all around passionate and kind person. We were co-workers at the Network for many years, but really we were friends. Everyone has a lot of co-workers throughout their careers, some friends, some acquaintances, some just co-workers. I can say with confidence that she was a friend to all of us, she wasn't just a co-worker.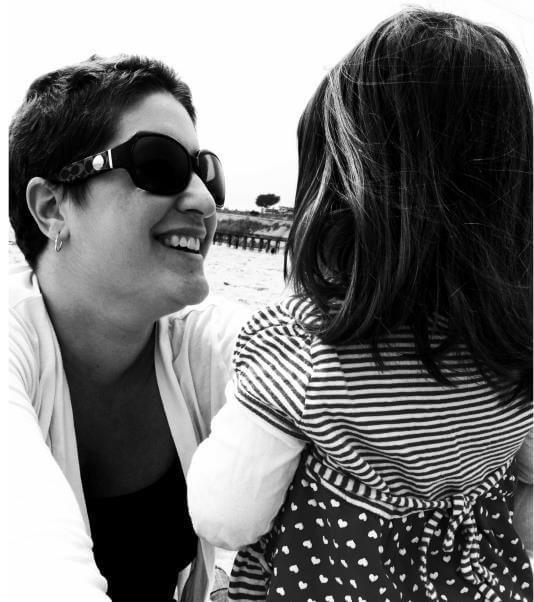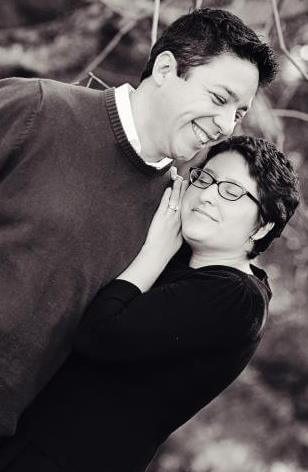 At this moment, I would just like to say @*$# CANCER!!!
Christina was diagnosed with breast cancer two years ago in 2010. She fought courageously through it for one year, was back to work and her bubbly self the next year, and then it came back again most recently a few months ago. I don't know details of her feelings, joys, pains, and life through the last few months but I can only imagine. I wish nothing but love, security in knowing she is no longer in pain, and faith to her family.

As I am working through my emotions and feelings, it's so strange to have things like her Facebook page and pictures, her blog, her Pinterest boards, and our old email messages to look back on and browse through. It brings a smile to my face to read through the times where she was not in the throws of cancer and was back to her lively and energetic self. You can see it in her posts and pictures. The thing that makes me smile the most is her oozing love for Ella Mae. Christina was so proud to be the mother of that spunky, beautiful little girl and everyone knew it. When I was having our baby, Christina was always so kind and supportive of every stage of pregnancy and parenthood I went through. She once told me "Motherhood has changed my life in the best way". I agree Christina, it has for me also and thank you for sharing your experiences with me.

I left the Network about 7 months ago and I think the last time I saw Christina was on my last day of work. I spent some time walking around saying goodbye to everyone and I have a vivid memory of my conversation with her that day. Christina had spent many months getting back to who she felt like she was meant to be. She had energy, she was working out on lunch breaks, she was on top of her game with her job, she was living life and was so thankful! I went down to the 4th floor of the CDPH building to say my goodbyes and stopped by her cube. She was all dressed up, looking as lovely as ever. She had her short styled hair, a dress on with a cardigan, and a beautiful flower pinned to her chest. I think the flower was something a friend might have made. Christina was scheduled for an interview that day for a new position within the Network. As we were talking, she asked me if I thought the flower was too much? She said some people thought it might be too informal for an interview, maybe not professional enough. I gave her my opinion. I said, "No" I don't think it's too much, I think it's you. I think it shows your bubbly personality and spunk. She was so cute, she said something to the effect of, "I know, that's what I was thinking. I am proud of who I am and I think it shows all of me, not just a professional part of me". I ensured her that I thought it was fine to wear that flower with pride. I am not sure if I will ever know if she wore that flower or not, but I like to imagine she did.
There are so many parts to this story that are tragic. Anyone who is dealing with cancer themselves, or through a loved one, is dealing with their own set of tragedies. I hope, pray, and have faith that God has our plan and has his reasons for these tragedies. The fact remains that I am angry that some people choose to kill others or leave this world by their on hand. It's hard to accept because sweet deserving people like Christina, who are so thankful for every breath that they take, don't choose. They are given these tragedies. Ella Mae, in her all of almost three years of life, was given this tragedy. She has an amazing and loving family to help her through the years, but my heart will always ache for her and the memory of her mother.
With that said, Christina's family started a fund to help support Ella Mae and her future. I can't make any promises, but here goes. I want to help. I want to do something in memory of my friend and in support of her daughter's future. Tonight, in memory of our last conversation, that flower, her smile, her laughter, and her life, I pulled out my craft supplies and made something. I made a flower. I am going to wear that flower with pride. I am also going to sell these flowers and all the proceeds will go to Ella Mae. If you or anyone you know wants to buy a flower, email me and I will make you a flower and give the proceeds to Christina and Ryan's daughter Ella's education fund.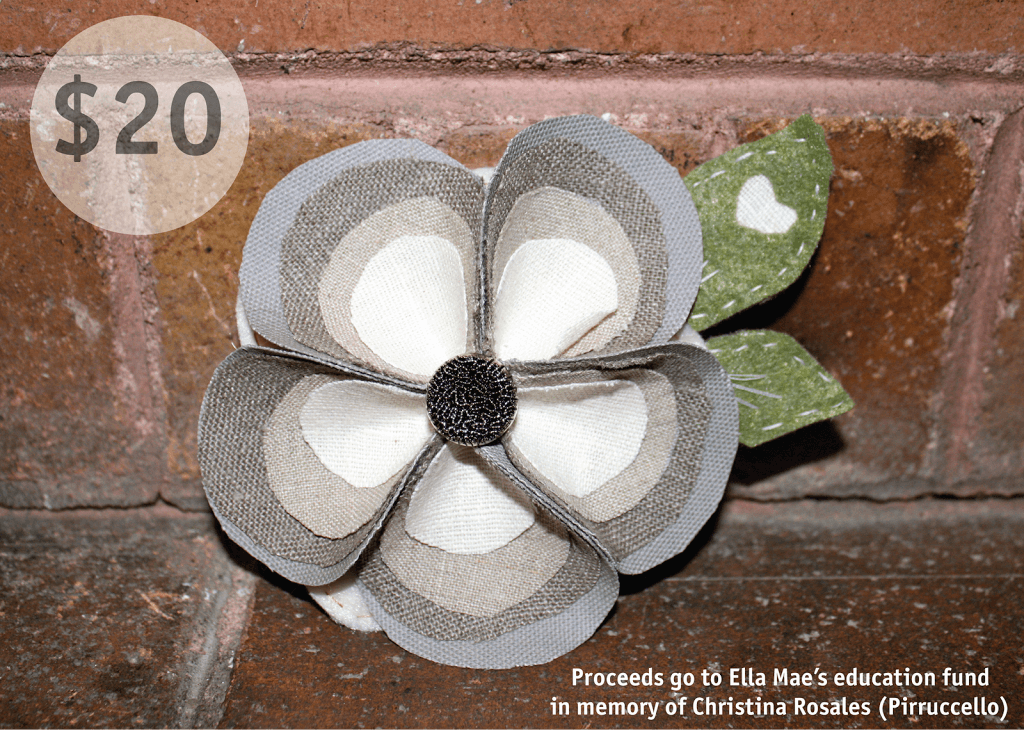 Since the birth of my son 17 months ago, a level of fear and worry has crept up inside of me. I am sometimes afraid of the future, afraid of tragedies, and flat out afraid of death. I have definitely been challenged lately to keep that fear away and have trust and faith. Maybe Christina was afraid of death, maybe she wasn't. I know deep down that she is in a place where she is pain free and can watch over her daughter and family with a smile.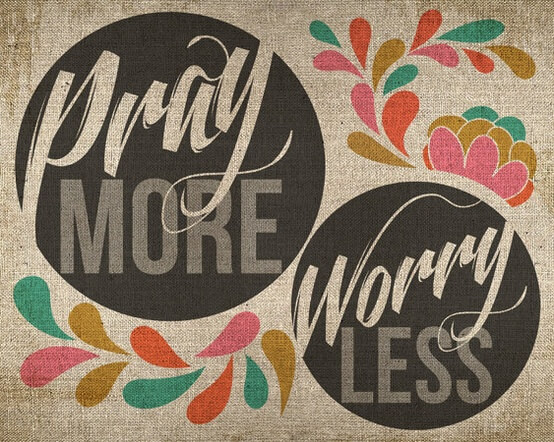 May your soul rest in peace my friend, may you experience the joys of heaven, and may you be there in spirit for your daughter all the days of her life. You have touched the lives of so many, so many more than you will ever know.
You will always have a place in my heart friend.
Love, Sarah